Two Chester care home residents who are lifelong Everton fans took a trip down memory lane at their favourite team's home ground.
Team members at Care UK's Deewater Grange, on Chester Road, arranged a surprise trip to Everton's Goodison Park for residents Corinne Clarke, 87, and Howard Dodds, 75. They had talked in detail about their decades-long devotion to Everton fans and often reminisced on memories spent watching the team in action.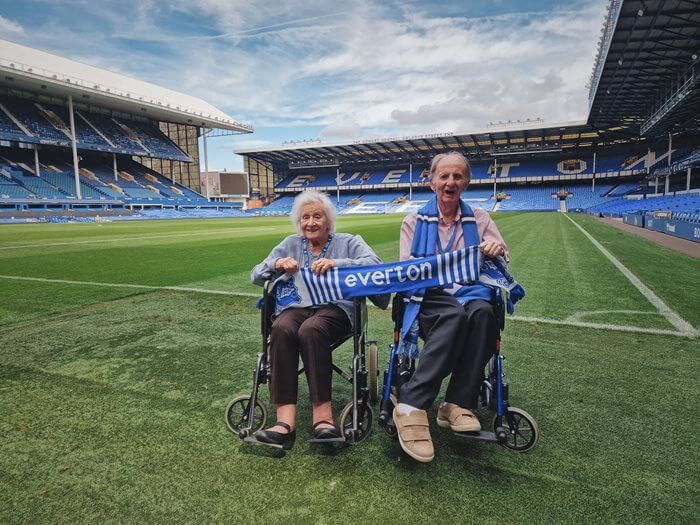 The team at Deewater Grange contacted the club after Corinne and Howard expressed their lifelong wish of going behind the scenes of their favourite football club.
Corinne has always been an Everton supporter and was taken along to matches with her family growing up. Her passion for football and the club was contagious, with almost all three generations of her family following suit and going blue.
Howard's love for Everton began at the age of sixteen after his father started taking him to home and away games. He often recalls sitting in the Bullens Road stand. After meeting his wife, he soon converted her to an avid Everton fan too and the pair used to go to matches together regularly.
The club treated Corinne and Howard by offering them the full VIP treatment with a private tour around the changing rooms, boardrooms, grounds, trophy room and the pitch to see where all the action happens.
Commenting on the surprise visit Corinne said: "The experience of going back to Goodison Park after all these years was absolutely marvellous, fabulous – just brilliant."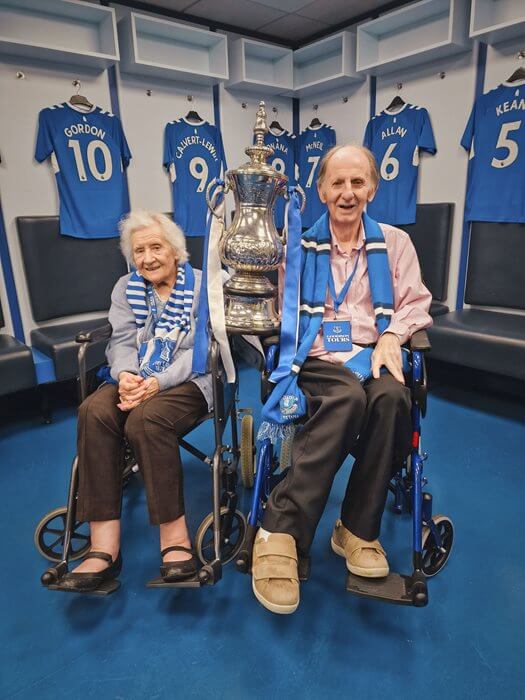 Sally Cooper, Home Manager at Deewater Grange, said: "Corinne and Howard both speak so fondly of the memories they've made as Everton fans, so we were really excited to be able to make their wish of returning to Goodison Park for a special tour after so many years come true. We always like to go the extra-mile for residents here at Deewater Grange, and bring their wishes to life, no matter how small – or unusual.
"The pair were delighted to be back at Everton's home ground – even making their way through the tunnel and onto the pitch. It was fantastic to see Corinne and Howard reveling in the visit and we were so pleased we could create another meaningful Everton memory for them."
Deewater Grange is a state-of-the-art home which provides full-time residential, dementia and nursing care. The home has been designed to enable residents to live active and fulfilled lives, while also promoting independence, and incorporates space for hobby and leisure activities, including its own café, bar, cinema as well as a hair and beauty salon. The layout of the building is configured into a series of individual suites, each having a dedicated lounge/dining room to help facilitate the creation of close-knit communities.
To find out more about the care home, contact Customer Relations Manager at Deewater Grange, Andrew Kenny, on andrew.kenny@careuk.com or call 01244 259480.
For more general information, visit careuk.com/deewater-grange.