A care home team in Hythe has served up a dream come true for one jazz loving resident by helping her to visit her favourite jazz club.
80-years-old Delaine Butt was delighted when the team at Care UK's Carpathia Grange, on Southampton Road, where she lives, organised for her to return to a music club that she adored when she was younger.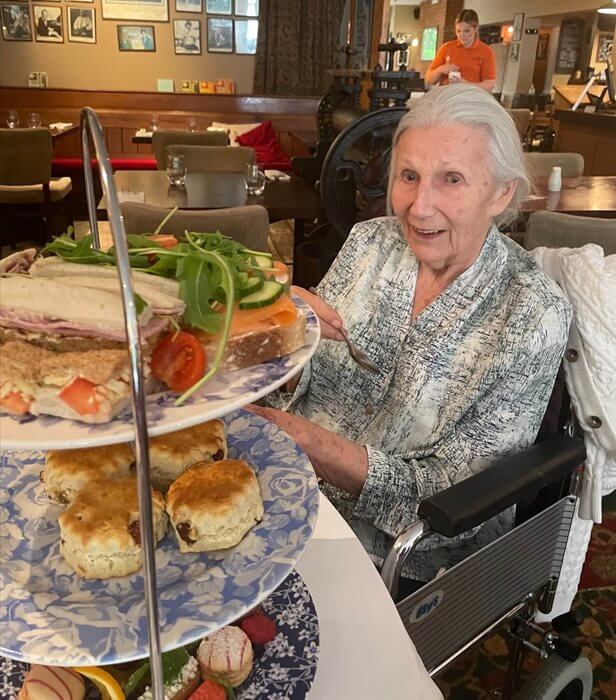 In her younger years, Delaine visited the Concorde Club in Eastleigh twice a week with her best friend to listen to live music and dance together. They were often the first to arrive and the last to leave the club. When the care home team heard about Delaine's memories of the club, they were keen to organise a very special surprise.
Delaine was treated to a special visit to the club, complete with afternoon tea and live music from the Jersey Boys She was also reunited with club owner, Cole Mathieson who remembered Delaine as one of his most loyal customers. Cole took Delaine on a tour of the club to reminisce and show her how much has changed over the years.
Delaine said: "I felt like I was 16 again! I really enjoyed sitting outside and singing to all the songs – my favourite song was Rag Doll. It brought back so many memories from my youth."
The visit formed part of the home's 'Wishing Tree' Initiative, which encourages residents to put wishes forward, allowing them to reconnect with a past hobby or try something completely new – from flying on a plane to enjoying a fish and chip supper, no wish is too big or small.
Pooja Dhoot, Home Manager at Carpathia Grange, added: "We had a wonderful time organising for Delaine to revisit her favourite jazz club.
"Here at Carpathia Grange, we support residents to lead fulfilling lives in whatever capacity that may be. Whether it's arranging a trip to the garden centre, turning our home into a restaurant, or making wishes come true. Everyone at the home knows how many fond memories Delaine has of her days visiting the Concorde Club and how much she loved the music and atmosphere there, which is why we were delighted to be able to organise her to revisit.
"We would like to say a huge thank you for everyone at the Concorde Club for making her visit so special, the smile on Delaine's face was a picture."
Carpathia Grange is a three-storey care home which provides residential, dementia and nursing care. The home features 62 en-suite bedrooms and has been designed to enable its residents to live active and fulfilled lives, while also promoting independence. The care home incorporates space for hobby and leisure activities and includes its own cinema, hair salon and café.
To find out more about Carpathia Grange, please contact Customer Relations Manager, Nikki Toomer, on nicola.toomer@careuk.com or call 0238 098 8733 or visit careuk.com/carpathia-grange.