Love was in the air at a local care home when two residents celebrated a very special milestone with a cruise themed party.
John Bennett, 86, and his wife Sue, 84, toasted their 61st wedding anniversary at Care UK's Bickerton House, on Warfield Road, where they both live.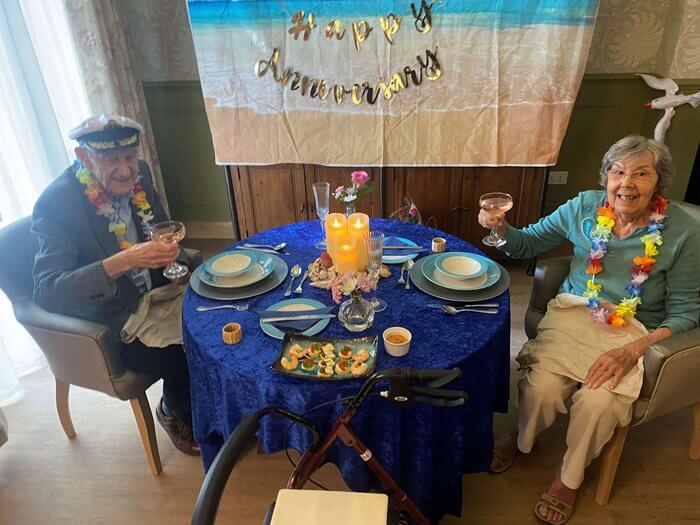 It was love at first sight when John and Sue met at a dance in Swindon. Sue had previously noticed John and 'had her eye on him'. 10 days after their first dance, a colleague of John's remarked: "You are seeing a lot of that girl." John replied: "Yes I am going to marry her."
On the 28th October 1961, John and Sue married in a church in Swindon with 60 people in attendance.
The couple started married life in Swindon and, as a result of John's role in the RAF, have lived in Nottingham, Winchester, Reading and Malta in the early years of their marriage. They eventually settled in Pangbourne and John was appointed the world's first Professor of Quantity Surveying by Reading University. He also wrote three novels and is currently considering writing a fourth based on life in a care home.
Sue and John had two children together and five grandchildren.
Jon said: "Our secret to a happy and long marriage is being tolerant of the other's behaviour."
Sue added: "You will always know when you meet the right person. You should work at staying in love by doing interesting things together."
To toast the special milestone, Bickerton House's team prepared a special surprise. They found that modern gift list suggests a cruise for 61 years, so they created their very own Bickerton Cruise Ship. The lounge was fully decorated to re-create a cruise including palm trees, balloons and a silver service set table. The couple donned their best clothes and were treated to a three-course meal prepared by the Head Chef.
Erika Smith, Home Manager at Bickerton House, said: "We regularly celebrate big anniversaries and understand the importance of maintaining relationships and acknowledging life's milestones. We were honoured to be a part of such a special moment for John and Sue. They are truly inseparable, and we can all learn a thing or two from their long-lasting marriage.
"Marking such a special occasion at the home allowed many of the residents to reminisce and share fond memories of their own wedding days, which was lovely to hear. Happy anniversary, John and Sue!"
Bickerton House has been designed to encourage residents to live active and fulfilling lives, while remaining as independent as possible in a safe environment. The state-of-the-art care home provides full-time residential, nursing and specialist dementia care and features a bar and café, cinema, hair salon, activities room and garden.
For more information about Bickerton House, please call Customer Relations Manager, Jo Anderson on 01344 989943 or email Jo.Anderson@careuk.com, or visit careuk.com/bickerton-house.