A new Market Harborough care home has made a much-needed donation to a local organisation.
Care UK's Oat Hill Mews, on Leicester Road, which will open its doors in April next year, presented VASL with a £500 contribution.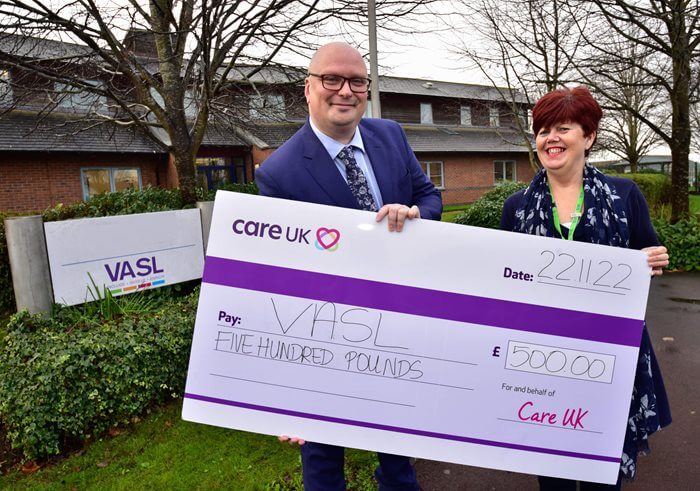 VASL is a local charity which provides vital support to family carers and older people in the community. They offer volunteer transport and activities to combat isolation, with trained volunteers available to give wellbeing advice and signposting local people to relevant services.
The funds will go towards VASL's existing projects and services, enabling them to continue to support older people in the community.
Maureen O'Malley, Charity Manager for VASL, said: "We're really grateful to receive funds from the Care UK team at Oat Hill Mews.
"Being a carer can be isolating, and we know many older people in the community sometimes feel lonely, so these funds will go a long way in ensuring both groups can receive the right support. On behalf of everyone, I'd like to say a big thank you to the Oat Hill Mews team for their donation – we're looking forward to building upon this relationship as the home begins to welcome the first residents."
Mark Evans, Customer Relations Manager at Oat Hills Mews, said: "We're very pleased to be able to donate funds to VASL.
"We know just how important local groups are, especially when it comes to supporting older people in the community and their carers. Their mission completely aligns with ours, and I'm excited to explore further opportunities to work together to create a strong community-wide support network right here in Market Harborough.
"We're looking forward to welcoming Maureen and other members of VASL to Oat Hill Mews again once we open our doors next year."
Designed to enable residents to live active and fulfilled lives, while also promoting independence, the new care home, which is set to open in April 2023, will incorporate space for hobby and leisure activities.
To find out more about Oat Hill Mews, please call Customer Relations Manager, Mark Evans, on 01858 390 039, or email mark.evans@careuk.com
For general information about Oat Hill Mews, please visit careuk.com/oat-hill-mews