A resident at a care home in Chingford has been reading well-known bedtime stories to local children as part of a nationwide initiative to celebrate National Storytelling Week.
Chingford may seem a little quieter than usual after a resident from Care UK's Ivy Grove, on Hatch Lane, visited Lea Bridge Library for to read to local youngsters.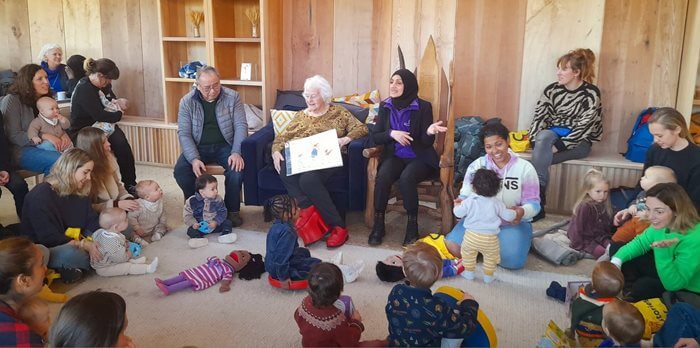 To celebrate National Storytelling Week, Care UK has created the Bedtime Stories initiative which sees residents across the UK read classic bedtime stories to young children. The campaign, which includes the launch of four free videos of residents reading famous stories, ensures children who may not have a grandparent do not miss out on a magical tale before bedtime.
In Chingford, resident Valerie Howard-Gibbons visited the local library to read to toddlers and their parents and guardians. After practising her character's voices for a retelling of We're Going on a Bear Hunt by Michael Rosen, Valerie sat herself down to read to over 60 people who attended on the day.
Commenting on the morning, Valerie said: "It was wonderful spending the afternoon with the children – who were all so well behaved and really engaged with the story. The parents and guardians were a joy too, and it was lovely to see them getting involved in the story and lyrical rhymes to help bring the words to life. I look forward to going back and reading to them all again."
Alexander Bragg, General Manager at Ivy Grove, said: "We were delighted to be invited by Lea Bridge Library to read stories to local children to celebrate National Storytelling Week.
"Activities in partnership with the local community give residents a wonderful opportunity to build new friendships, spark conversations and improve wellbeing. Not only did Valerie enjoy the opportunity to meet different people, but the visit also helped her give something back to those living nearby.
"We would like to thank Lea Bridge Library for hosting us and letting Valerie read to the children. I know everyone had a fantastic afternoon and we look forward to attending more events with the local community later this year."
To watch four Bedtime Stories read by Care UK residents, or for more information about the Bedtime Stories initiative, visit: careuk.com/bedtime-stories
Designed to enable residents to live active and fulfilled lives, while also promoting independence, Ivy Grove incorporates space for hobby and leisure activities. The layout of the building has been configured to help facilitate the creation of close-knit communities and encourage social interaction among residents.
To find out more about Ivy Grove, please call April Jones, Home Admissions Advisor on 020 3797 0198, email April.Jones@careuk.com or visit careuk.com/ivy-grove