Residents at a care home in Sevenoaks have been reading well-known bedtime stories to local children as part of a nationwide initiative to celebrate National Storytelling Week.
Sevenoaks may seem a little quieter than usual after residents from Care UK's Weald Heights, on Bourchier Close, welcomed children from Oakley Day Nursery in Sevenoaks into the home for a special retelling of Winnie the Pooh by A.A Milne.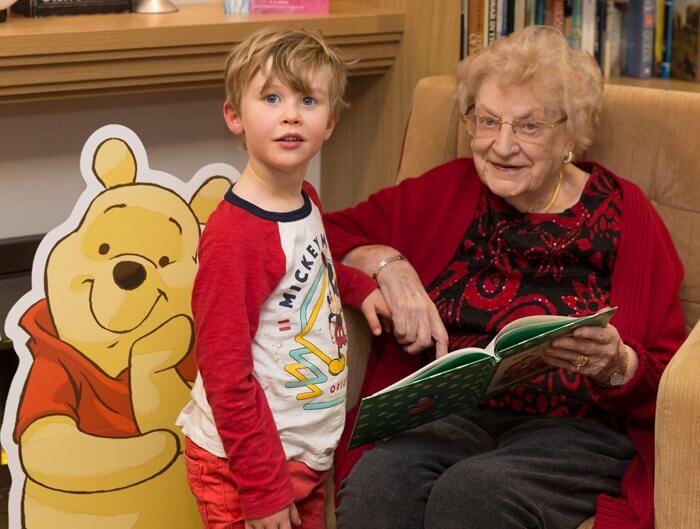 To celebrate National Storytelling Week, Care UK has created the Bedtime Stories initiative which sees residents across the UK read classic bedtime stories to young children. The campaign, which includes the launch of four free videos of residents reading famous stories, ensures children who may not have a grandparent do not miss out on a magical tale before bedtime.
As well as practicing their best character voices, residents and team members went a step further to get into character, and wore costumes, including Winnie, Tigger, and Eeyore, for the children to enjoy. To finish the afternoon, all of the children left with a copy of Winnie the Pooh.
Commenting on the afternoon, resident, Molly Bradshaw, said: "It was truly wonderful to welcome the delightful children from Oakley Day Nursery, and read to them some of the many stories of Winnie the Pooh. The afternoon brought back so many memories of reading to our children and grandchildren."
Maria Covington, Home Manager at Weald Heights, said: "We see many of the residents' grandchildren when they visit their loved ones, so these reading sessions were a wonderful way to spend time with familiar faces.
"Reading stories aloud to a small audience of listeners required the residents to use skills they might not have utilised for some time. By using a variety of voices and different sounds they really brought the characters to life and were able to hold the attention of the children. Not only was the session very heart-warming, but it was fantastic for boosting the residents' confidence.
"It was wonderful to spend quality time with the younger generation of visitors who come to the home on a regular basis and we know we will be seeing them again soon."
To watch four Bedtime Stories read by Care UK residents, or for more information about the Bedtime Stories initiative, visit: careuk.com/bedtime-stories
Weald Heights is a purpose-built care home designed to deliver luxury hotel-style comfort for residents, complete with a café, hair and beauty salon, cinema and garden. The home is divided into separate residential, nursing and dementia care suites, encouraging close-knit communities where residents can get to know each other, and where people with similar needs can be cared for together.
For more information on Weald Heights, please call Customer Relations Manager, Amelia Moore, on 01732 809 189, or email amelia.moore2@careuk.com
For more general information, please visit: careuk.com/weald-heights