Pupils from a local primary school have won a competition to name the suites at a brand-new care home in Cardiff.
Keen for names with cultural or historical significance to the area, the team at Care UK's Llys Herbert reached out to locals for suite names, knowing that those with connections to the town would be the best to help with the task.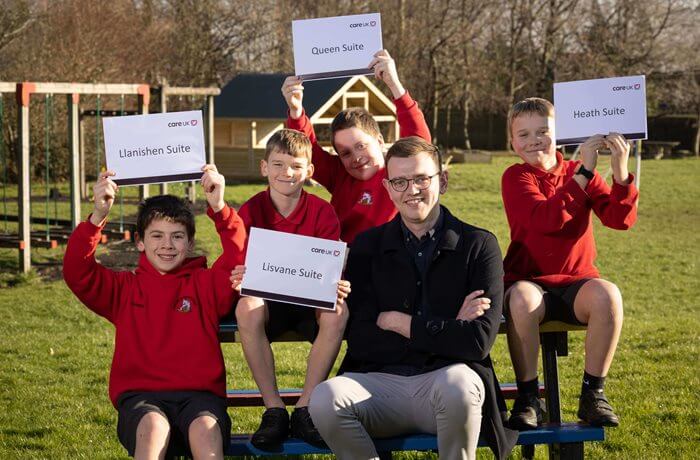 The winning entry came from George, aged 11, Ethan, also aged 11, Toby, aged 10 and Ryan, aged 10, all pupils at Llysfaen Primary School. Inspired by the train stations of Cardiff, Llanishen, Heath, Queen and Lisvane have been chosen for the suites currently being built at the care home on Ty-Draw Road.
Llys Herbert will be divided into four suites, each comprising a number of bedrooms and a lounge for residents. This encourages the creation of tight-knit communities within the home and provides space for group activities.
Commenting on their win, Ryan and George said: "We thought that 'Queen Suite' would be a fun play on words and then the other train stations came from there."
Ethan and Toby added: "We loved the competition and coming up with the names, we really racked our trains … sorry, brains for the winning idea!"
Angela Zuraw, Regional Director for Care UK, added: "Picking the suite names for a new home is one of the key milestones in preparation for opening, so it was important that the community were involved in the decision. All of the suggestions we received were of a very high quality, making our decision a difficult one, but we felt using the names of the train stations which connect the residents of Cardiff to be a great way to reflect the connections we hope to form at Llys Herbert.
"We're incredibly grateful to everyone who took the time to submit an entry and to Ethan, Toby, Ryan and George for coming up with the winning suite names!"
Designed to enable residents to live active and fulfilled lives, while also promoting independence, the new care home, is set to open in July. The spacious home will allow for plenty of space for hobby and leisure activities, and will have its own bar, hair and beauty salon, cinema and coffee shop.
For general information about Llys Herbert, please visit: careuk.com/llys-herbert