Residents at two care homes in Hampshire have been reading well-known bedtime stories to local children as part of a nationwide initiative to celebrate National Storytelling Week.
Hampshire may seem a little quieter than usual after residents from Care UK's Carpathia Grange, in Southampton, welcomed residents' great grandchildren into the home's lounge for a special retelling of Alice in Wonderland.
The team had a wonderland themed thrown created especially for the occasion which was decorated with characters from the book including the Cheshire Cat and the White Rabbit. Residents sat on the throne while reading to the children, and the children enjoyed taking it in turns to try out the throne too.
Down the road, at Sway Place, in Sway, residents visited Little Flyers Preschool and read classic bedtime stories to the local youngsters including Goldilocks and The Three Bears.
Resident at Sway Place, 82-year-old Anne Parry who was a nursery teacher and has an MBE for her services to children, said: "The visit brought back so many happy memories of my days as a nursery nurse. I am very maternal, and this showed when I saw the children, it was a marvellous afternoon.
"Reading is such an important tool, and to share the books with the children and see the book come alive and their happy smiles was just magical."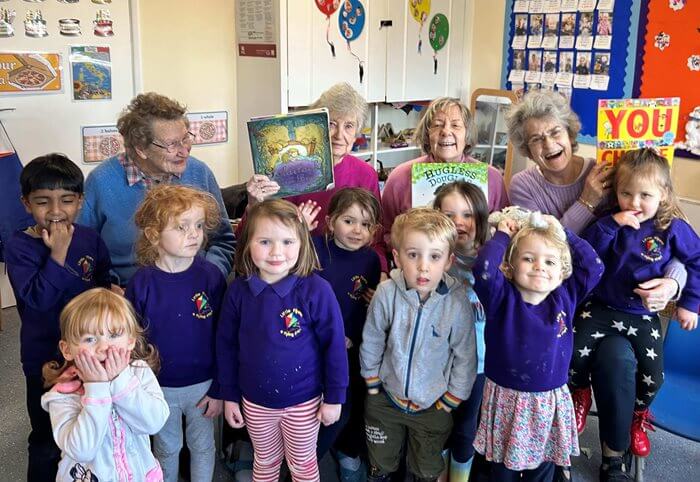 To celebrate National Storytelling Week, Care UK has created the Bedtime Stories initiative which sees residents across the UK read classic bedtime stories to young children. The campaign, which includes the launch of four free videos of residents reading famous stories, ensures children who may not have a grandparent do not miss out on a magical tale before bedtime.
Pooja Dhoot, Home Manager at Carpathia Grange, said: "We've had a wonderful week of storytelling here at Carpathia Grange. Whether it's Peter Pan flying us to Neverland or Alice taking us down the rabbit hole, children's literature is often the first key to unlocking our imaginations and nurturing a lifelong love of reading – so it was great to welcome residents' great grandchildren to Carpathia Grange.
"We all remember stories told to us as children, often before bedtime, and find comfort in adulthood in these nostalgic memories. We're thrilled Care UK has launched the bedtime stories initiative – it's wonderful to have children benefiting from residents reading them stories both in our home and right across the UK with the fantastic videos."
Laura Blake, Home Admissions Advisor at Sway Place, added: "We were delighted to Little Flyers Preschool to read stories to the children.
"We would like to thank the team at Little Flyers Preschool for hosting us at their nursery and making us feel so welcome. The residents thoroughly enjoyed reading stories to the children."
To watch four Bedtime Stories read by Care UK residents, or for more information about the Bedtime Stories initiative, visit: careuk.com/bedtime-stories
Carpathia Grange and Sway Place provide full-time residential care, dementia care and respite care. The layout of the buildings are configured into a series of individual suites, each having a dedicated lounge/dining room to help facilitate the creation of close-knit communities.
To find out more about Carpathia Grange, please contact Customer Relations Manager, Nikki Toomer, on nicola.toomer@careuk.com or call 0238 098 8733 or visit careuk.com/carpathia-grange
Or to find out more about Sway Place, please call Laura Blake, Home Admissions Advisor, on 01590 607371, email laura.blake@careuk.com or visit careuk.com/sway-place