Care UK has, for the second year in a row, been announced as a finalist in the Residential Care Provider of the Year category at the Health Investor Awards. Last year, Care UK won the prestigious award from other leading care home providers at the ceremony in London.
For nearly 20 years, the Health Investor Awards have been honouring organisations that set new quality standards in social care, clinical services and in associated advisory, property and financial roles.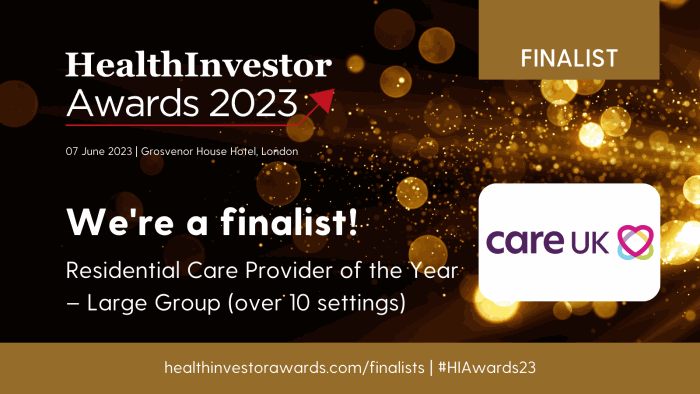 When asked to propose values that describe Care UK, colleagues selected 'caring', 'passionate' and 'teamwork'. Everyone at Care UK works to embody these values every day, which is why it is an award-winning care home provider.
Care UK's quality ratings are the highest of the big five care home providers. 91% of Care UK's care homes are rated 'Good' or 'Outstanding', which is a 4% increase on the previous financial year. Care UK has also managed to maintain some of the highest customer satisfaction and employee engagement scores in the sector.
Care UK's ethos is to support residents to live fulfilling lives. The 'Wishing Tree' initiative has helped residents in our homes to fulfil their lifelong dreams – no matter how big or small. Care UK teams have been working meticulously to fulfil all residents' wishes. An 89-year-old resident from Dashwood Manor went skydiving, two Appleby House tennis enthusiasts were given the VIP treatment at Wimbledon, and twin sisters at Mountbatten Grange enjoyed a weekend-long cruise, to name a few.
Care UK also partners with not-for-profit organisations to support colleagues. For example, the company has a long-standing partnership with the Care Workers Charity. Its hospitality teams continuously evolve kitchen standards and are sector leaders in the global #FairKitchens movement, aimed at improving the wellbeing of catering teams.
Care UK will find out whether it has won the award on 7th June in London at the Health Investor Awards ceremony.