A 100-year-old Leatherhead care home resident has revealed the secret to living a long and happy life.
Margaret Slade, OBE, from Care UK's Liberham Lodge, on Rectory Lane, marked her 100th birthday on 23rd March with a special birthday party. Reflecting on her many happy years, she revealed the secret to a long life is to "face each day as it comes", noting that "every day is always different from the last, so embrace the differences and enjoy how the days play out."
To celebrate the occasion, the talented chefs at Liberham Lodge prepared Margaret a special afternoon tea to share with her friends and fellow residents. Ensuring the scene was set for the home's latest centurion, the team decorated the home's lounge with birthday banners and balloons – much to Margaret's surprise.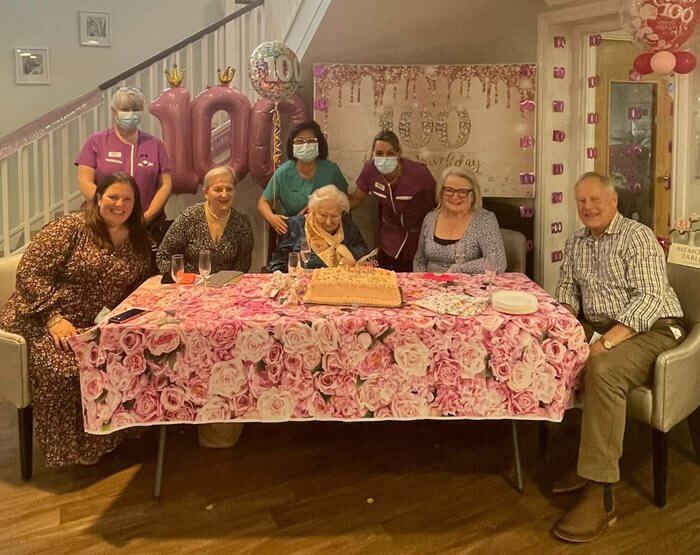 Commenting on her 100 years, Margaret said: "I feel very lucky to have celebrated my birthday amongst friends and family. I am the fourth generation in my family to reach 100!"
Margaret was born on March 23rd 1923 in Nottingham. A keen traveller, Margaret has lived in London, the Isle of Wight, Essex and Surrey. After leaving school, Margaret began her career working as a shorthand typist, before becoming a private secretary and later taking up an admin role in the British Red Cross.
Margaret has three children, five grandchildren, and three great-grandchildren, who often visit her at Liberham Lodge and get involved in the home's activities, including opera performances, Pimms on the lawn and festive celebrations.
Jagpal Singh, General Manager at Liberham Lodge, said: "It was wonderful to listen to Margaret share her memories from her 100 years, and to help celebrate such a momentous birthday.
"Here at Liberham Lodge, we work hard to support residents to lead fulfilling lives, and celebrating special occasions and birthdays plays a huge part in this. We love any excuse to celebrate the amazing people living here at Liberham Lodge and Margaret's birthday was no exception.
"A much-loved resident at the home, Margaret has an excellent sense of humour and is always making us laugh. We were honoured to raise a glass to her incredible life so far and are privileged to have her as part of our Liberham Lodge family."
Designed to enable residents to live active and fulfilled lives, while also promoting independence, Liberham Lodge incorporates space for hobby and leisure activities. The layout of the home has been configured to help facilitate the creation of close-knit communities and encourage social interaction among the residents.
To find out more about Liberham Lodge, please email Vicky Radmore, Home Admissions Advisor on Victoria.Radmore@careuk.com, call 01372 887982 or visit careuk.com/liberham-lodge