A 102-year-old Knebworth care home resident has revealed the secret to living a long and happy life.
Marjorie Broadhurst, a resident at Care UK's Knebworth, on London Road, marked her 102nd birthday on Saturday 11th February. Reflecting on her many happy years, she revealed the secrets to a long life include "seeing my family grow" and "keeping busy when I was younger".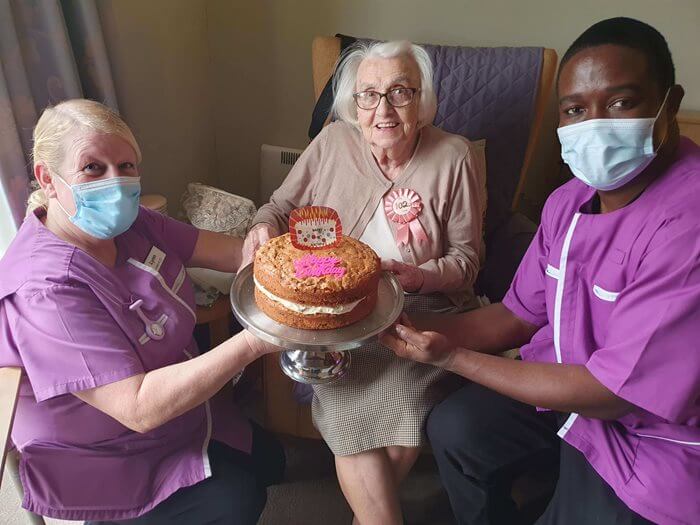 To celebrate, the talented chefs at Knebworth baked a special fruit cake – Marjorie's favourite – for the occasion. Continuing the birthday fun, Marjorie spent a day with her sons and grandchildren for a second celebration with her family.
Commenting on her milestone birthday, Marjorie said: "I had a nice day celebrating my birthday – I especially enjoyed my birthday cake!"
Vera Moreira-Henocq, Home Manager at Knebworth, added: "We had a lovely day celebrating Marjorie's birthday. It was wonderful to listen to her share her memories and her secrets to a long life – we all know how important Marjorie's family is to her and it was wonderful to see her so happy.
"We work hard to support residents to lead fulfilling lives here at Knebworth, and celebrating special occasions and birthdays plays a huge part in this. We love any excuse to celebrate the amazing people living here at Knebworth and Marjorie's birthday was no exception.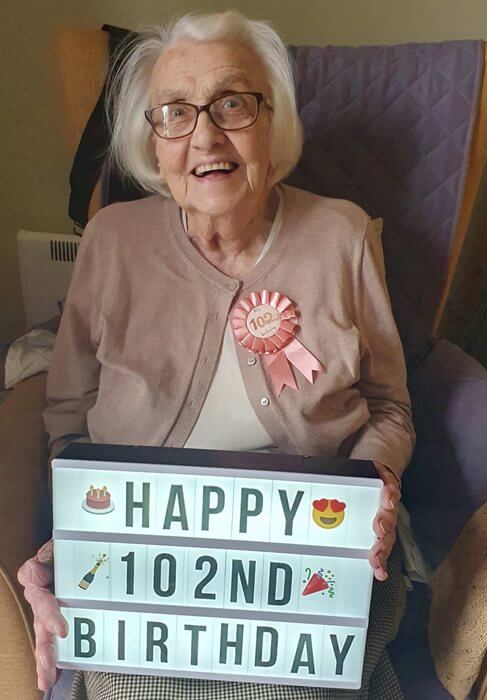 "Marjorie is a much-loved resident at the home and we are privileged to have her as part of our Knebworth family."
Marjorie was born in Cheshire, where she stayed before moving into Knebworth in 2019, at the impressive age of 99.
In 1945, Marjorie married her husband, Ronald, and they went on to have two sons together. Aged 102, Marjorie has watched her five grandchildren and six great-grandchildren grow up which she credits as being the key to her happy life.
In her younger days, Marjorie had a number of jobs, including working at a florist called Dingles. The florist provided many flowers, chocolates and decorations for weddings, working alongside Fortnum and Mason to deliver products by telegram. Having never visited the luxury department store before, when the war ended her husband took her to visit so she could experience it for herself – and she wasn't disappointed.
Always keeping herself busy, Marjorie pursued many hobbies in her younger days, including gardening, knitting, decorating and sewing. She moved into Knebworth in 2019, and enjoys spending her time keeping in touch with her many grandchildren and great-grandchildren.
Knebworth is a state-of-the-art care home which provides full-time residential, nursing, dementia and short-term respite care. The care home incorporates space for hobby and leisure activities and includes its own cinema, hair salon and café.
For more information on Knebworth and to book your place for the event, please call Customer Relations Manager, Paula Brown, on 01438 893411, or email paula.brown@careuk.com
For more general information, please go to careuk.com/knebworth