Care UK teams are celebrating after winning two awards at the prestigious Public Sector Catering Awards ceremony. They were presented with the Care Catering Award trophy at the awards ceremony and Caroline Lloyd, Head Chef at Prince George House, took away the accolade for Unsung Hero.
The Public Sector Catering Awards recognise those working in and associated with catering in the UK care sector and are organised by the Public Sector Catering magazine.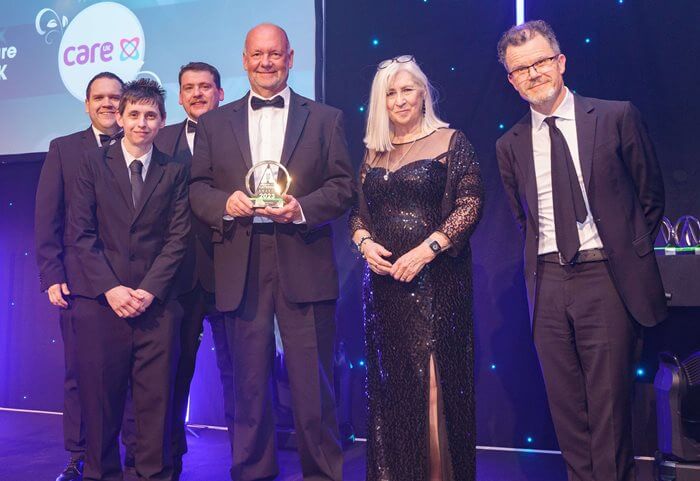 Care UK's 'Dining with Dignity' initiative, where residents with special dietary requirements are fully catered for in a discreet and respectful manner, saw Care UK take home the Care Catering award. Chefs at Care UK care homes are always encouraged to be playful with their culinary creations, and mark religious or cultural celebrations, or 'round the world' days for residents to enjoy such. The recent Chinese New Year saw many of our homes exploring the cuisine, with homes like Metchley Manor providing residents with spring rolls and noodle-based dishes as part of the celebration.
Speaking after the awards ceremony, Care UK's Director of Food and Hotel Services, Jon Bicknell, said: "I cannot begin to describe just how proud I am of all those who were shortlisted for these awards. Winning the Care Catering award is the testament to the hard work and dedication of our chefs, kitchen, and dining teams and the outstanding service they provide. Every single day, they provide creative, nutritious and beautifully presented meals for residents, regardless of their dietary requirements and preferences."
The Unsung Hero award win was based on Caroline Lloyd's dedication to consistently putting residents first. Over the Christmas period in 2021, to ensure residents were kept safe from the transmission of Covid-19 and could be cooked for over the festive season, the Head Chef's self-imposed isolation meant that she sacrificed spending Christmas with her family to cook up a storm and prepare 120 Christmas dinners with the help of a kitchen assistant.
I'm over the moon!
Caroline, award winner
Commenting on the win, Caroline said: "I'm over the moon to have scooped first place in the Public Sector Catering Awards this year. I'm so proud of the team and all of their continuous hard work – we take great pride in delivering the best dishes for the residents here at Prince George House and we're thrilled to see this recognised with a national award."