A care home in Salisbury is celebrating as its impressive renovation is nearly completed.
Care UK's Salisbury Manor, on Shapland Close, has unveiled its new marketing suite as it gets set to re-open its doors in just two months' time.
The new marketing suite marks an important milestone for the home as the end of the refurbishment is now in sight.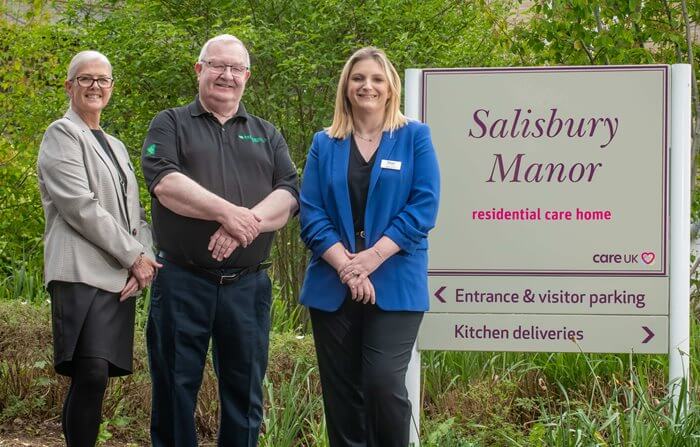 The £1.7m renovation included complete redecoration of all communal areas with new dining rooms, reconfiguration of the suites to enable residents living with dementia safe outside space, and the construction of large specialist rooms for residents requiring end of life care which will allow families to stay at the home.
The work also consisted of the creation of a brand-new cinema room with 85-inch television.
The re-opening of the care home in July will also bring 85 jobs to the area including, housekeeping and nursing jobs.
Skye Williams, General Manager at Salisbury Manor, said: "The unveiling of our new marketing suite is an important milestone for all of us, as it means renovation of the home is almost complete.
"We are excited to show everyone the fantastic renovation and the wonderful environment we have created here for residents and families. Every element has been carefully considered in order to create a high-quality, luxury care facility that will allow residents to live active and fulfilling lives. We now look forward to welcoming residents to their impressive new home over the coming months."
To find out more about Salisbury Manor, contact Home Admissions Advisor at Salisbury Manor, Suzanne Hesk, on Suzanne.Hesk@careuk.com or call 01722 569782.
For more general information, please visit: careuk.com/salisbury-manor
Designed to enable residents to live active and fulfilled lives, while also promoting independence, Salisbury Manor incorporates space for hobby and leisure activities. The home provides full-time residential care, nursing care, dementia care and respite care. The layout of the building is configured into a series of individual suites, each having a dedicated lounge/dining room to help facilitate the creation of close-knit communities.