An 87-year-old care home resident from East Grinstead was delighted when her lifelong wish to meet an owl up close was made a reality.
Christine Evans, a resident at Care UK's Mill View, on Sunnyside Close, travelled to The Owl and Raptor Centre, in Groombridge, to meet soe feathered friends up close.
Fascinated by the majestic creatures since childhood, Christine wanted a chance to see them up close for the first time. From owl cushions to a full dinner service and ornaments of the animals, Christine's home was an ode to the nocturnal animal. Christines's bedroom now showcases her longstanding love for owls with everything from lampshades to pillows on display.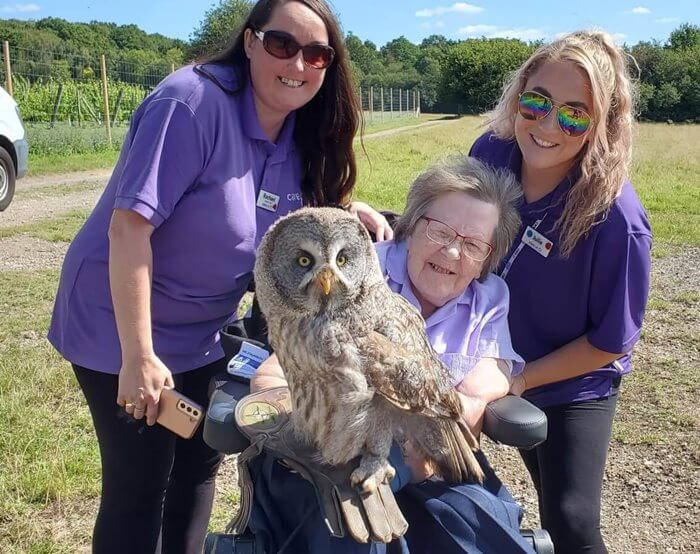 The surprise formed part of the home's 'Wishing Tree' initiative, which encourages residents to put wishes forward, allowing them to reconnect with a past hobby or try something completely new. This could be flying a plane or enjoying a fish and chip supper, no request is too big or small.
After Christine put her wish on the tree that she wanted to see owls in person, the team wasted no time in contacting a local sanctuary.
On the day, Christine was accompanied by Mill View team members and her sister, Beryl, where they were welcomed by the team at The Owl and Raptor Centre, before heading to the much-anticipated owl enclosures. She was then given the opportunity to get up close to a variety of birds, including a barn owl – her favourite kind – and a great grey owl.
Speaking of the experience, Christine said: "I loved being able to actually hold the birds and have them fly on my hand – I was surprised by how light they were!"
Trish Banks, Home Manager at Mill View, said: "We love to go the extra mile for residents here at Mill View and our wishing tree is a fantastic way to understand what's really important to residents.
"Everyone at Mill View knows how much Christine loves owls, so it was wonderful to help her wish become a reality. It was fantastic to see Christine come face-to-face with the beautiful creatures that she has loved since her childhood!
"She hasn't stopped smiling since visiting, so I'd like to thank the team at The Owl and Raptor Centre for making this day possible and helping us fulfil Christine's wish."
Mill View has been designed to deliver the very best standards of care and to enable residents to live active and fulfilled lives. The home provides full-time residential, nursing and specialist dementia care, as well as short-term respite. The home features state-of-the-art facilities including a cinema, café and activity space.