Care UK's Hear Well Project, which evaluates the impact of identifying and treating reversible hearing loss, was the winner of the 'Nursing in Social Care' category at this year's Nursing Times Awards.
This nurse-led project was developed with the support of the Queen's Nursing Institute's (QNI) Community Nursing Innovation Programme, which provides nurses with expert support in developing innovative projects that improve care for individuals and communities. The two project leads from Care UK – Natalia Stan, Deputy Manager at Milner House and Suzanne Mumford, Care UK's Head of Nursing, Care & Dementia – undertook the QNI innovation programme in November 2022.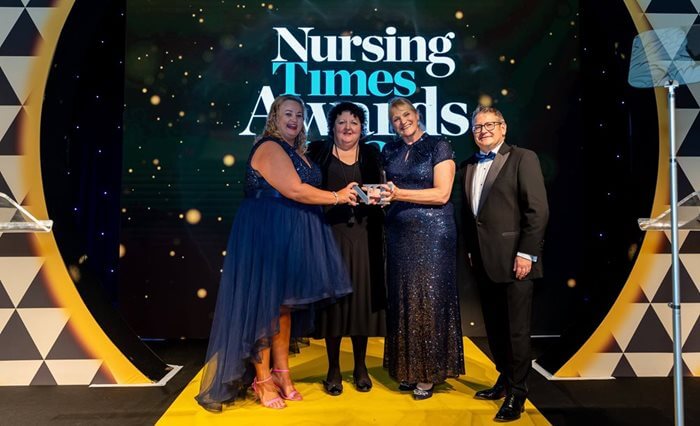 In December 2022, there were over 1,700 people living in Care UK care homes identified as wearing hearing aids or deaf. The majority of these had not had access to physical ear or hearing checks since before March 2020, due to the coronavirus pandemic. 63.6% of people living in Care UK care homes live with dementia, and of all residents, 20.4% are deaf or wear hearing aids.
The Hear Well project aimed to identify if training nurses in otoscopy and ear wax removal could alleviate challenges faced by residents with hearing problems and provide an easy to replicate model across a large, multisite organisation. The challenge was to establish simple and effective treatments without the need to visit a clinic.
One trained nurse, working at Milner House, worked with 47 residents over a three-month period to pilot the Hear Well project. Residents were screened by the nurses in a familiar environment, minimising distress, and referral time.
The project led to an improvement in communication, socialisation, mobilisation, and general wellbeing for residents who had ear wax removal with micro suction. Of residents receiving wax removal, there has been an improvement in hearing and understanding. There were also six instances where people were referred for hearing aids following otoscopy and hearing tests, which identified no wax but hearing loss. The results from this simple intervention are less data-driven but seen more in quality-of-life outcomes, including improvement in lived experience, and a reduction in symptoms of cognitive decline and social isolation.
The Nursing Times judges were impressed by the project's approach to identifying unmet needs, promoting wellbeing, reducing social isolation, improving relationships, and increasing social engagement. Overall, the quality of life of people living with dementia was improved, reducing the need for health appointments and hospital admissions. The judges believe the use of this technology could lead to far-reaching improvements for those in social care.
For example, one resident had been reluctant to come out of their room since admission and had difficulty understanding colleagues and their families. Following an otoscopy through Hear Well, which revealed a wax blockage in both ears, a course of olive oil eardrops was prescribed and micro suction successfully removed the wax. The resident had an immediate improvement in their hearing. As a result, the resident is now fully integrated in the care home community, joining activities and enjoying spending time with family and friends.
Suzanne Mumford commented: "We are delighted to have won this Nursing Times – Nursing in Social Care Award. Our collaboration with the Queen's Nursing Institute on this project helped us to focus and achieve incredible resident outcomes for their health and wellbeing. As a result of this project, we have been able to raise awareness of the importance of ear health, including developing a strategy for improvement for all residents within our care. This will also ensure that nursing colleagues will have access to further development and recognition of the specialist skills required when nursing in care homes."
Dr Amanda Young, QNI Director of Nursing Programmes (Innovation and Policy) said: "Congratulations to Natalia, Suzanne and their teams at Care UK for a fabulous project that has clearly made such a difference to the daily lives and wellbeing of many people. It's hoped that their innovative project will serve as a model for other care homes and lead to much wider and sustained improvement in hearing for care home residents in the UK."