A care home in Chingford has had a memorable start to the year after hiring an ex-Love Island star as their 'butler in the buff'.
Forget bingo, knitting and gardening – life at Care UK's Ivy Grove, on Hatch Lane, is not what you expect. In this care home with a difference, residents are empowered to lead fulfilling lives – so after the residents requested a 'fun' start to their new year celebrations, team members immediately set to work organising something memorable.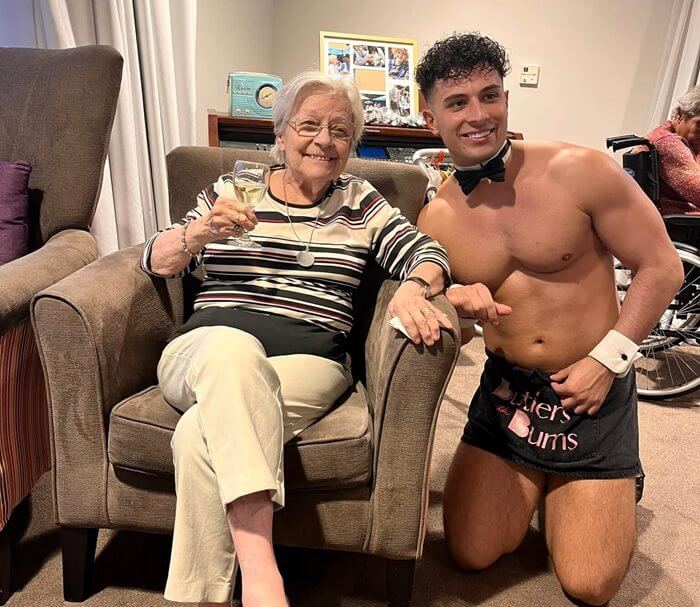 With lateral flow tests completed, the female residents were delighted to see ex-Love Island star, Alexi Eraclides, strut into the home's lounge wearing nothing but a rather revealing apron. After a round of applause and giggles, Alexi was only too happy to oblige in serving the ladies their tipple of choice.
The saucy afternoon proved so popular, even the male residents turned up for a peek at the bare-bottomed waiter.
Resident, Irene Davis, said: "Alexi came in and offered me a drink and then he turned around, and I just saw his bottom! Oh, what a surprise! I was blown away and I wasn't expecting it. I have seen many bottoms in my life but his one was certainly a delight. Definitely different to the usual day!"
Commenting on the afternoon, Alexi said: "It was great seeing the surprised faces of the residents and chatting to each of them. The residents were very kind – I think they enjoyed the surprise!"
Alexander Bragg, General Manager at Ivy Grove, said: "Our team are always looking to host fun and creative activities that offer residents a memorable experience and which challenge the view of living in a care home – which on this occasion, meant hiring ex-Love Island star, Alexi Eraclides, as our butler in the buff.
"Our ethos is about helping residents to enjoy more independent and fulfilling lives in the way they want to, and we're keen to ensure that there are no limitations so that every day can be different and fun.
"This was a truly memorable way to start the new year here at Ivy Grove. We want to say a big thank you to Alexi for coming along – the residents are already looking forward to his next visit!"
Designed to enable residents to live active and fulfilled lives, while also promoting independence, Ivy Grove incorporates space for hobby and leisure activities. The layout of the building has been configured to help facilitate the creation of close-knit communities and encourage social interaction among residents.
To find out more about Ivy Grove, please call April Jones, Home Admissions Advisor on 020 3797 0198, email April.Jones@careuk.com or visit careuk.com/ivy-grove.