A resident at a care home in Hailsham celebrated her 100th birthday and shared the secret to a long and happy life.
A very special birthday party took place at Care UK's Bowes House, on Battle Road, when resident Shirley Holmes celebrated her 100th birthday in style. She also revealed her secret to longevity, which is "no men, no alcohol, no smoking and lots of dancing!".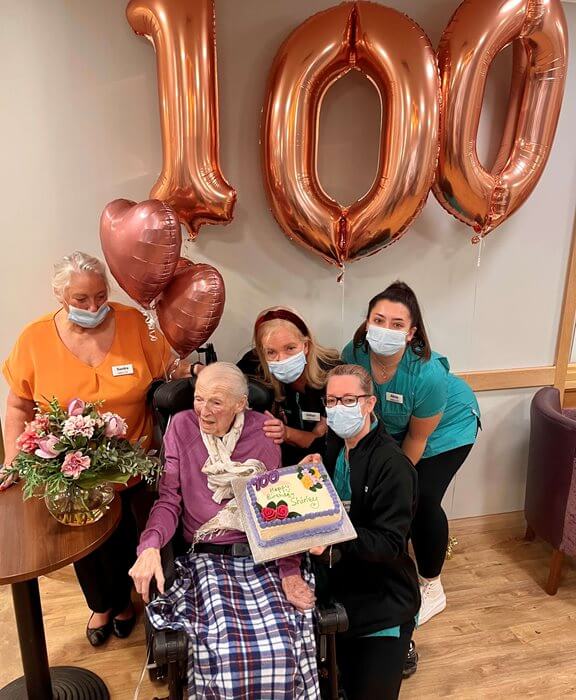 To mark the big day, the team decorated the home's café with balloons and banners and the home's chef baked a special birthday cake for everyone to enjoy.
Shirley was born on 5th of January 1923 and grew up in Nottingham. She went to a convent school and after school, worked as a secretary.
Throughout her life, Shirley was very sociable lady who loved shopping and theatre trips. She enjoyed tending to her garden and keeping plants. At Bowes House, Shirley loves reading and listening to music.
Karen Milligan, Senior Customer Relations Manager at Bowes House, said: "Shirley is a beloved resident at Bowes House, and it was a pleasure to help her celebrate this tremendous milestone.
"Everything we do centres around helping residents to live fulfilling lives, which is why we are always eager to mark special occasions. Shirley's 100th birthday was no exception, and it was a delight to raise a glass in her honour!"
Bowes House is a state-of-the-art care home which provides full-time residential, nursing and dementia care, as well as short-term respite care. Designed to enable residents to live enjoyable and fulfilling lives, the care home has its very own café, cinema and hair salon and there is plenty of space, both indoors and out, for relaxation and recreation. The home has a comprehensive activity programme, offering a mix of themed events and group activities both inside and outside of the home.
To find out more about Bowes House, contact Customer Relations Manager at Bowes House, Karen Milligan, on karen.milligan@careuk.com, call 01323 888 611 or visit careuk.com/bowes-house.