The team at a brand-new local care home has welcomed its first residents after opening its doors earlier this month.
One of the first residents to call Care UK's Oxbow Manor, on Oteley Road, her new home is 94-year-old Sheila Moffatt.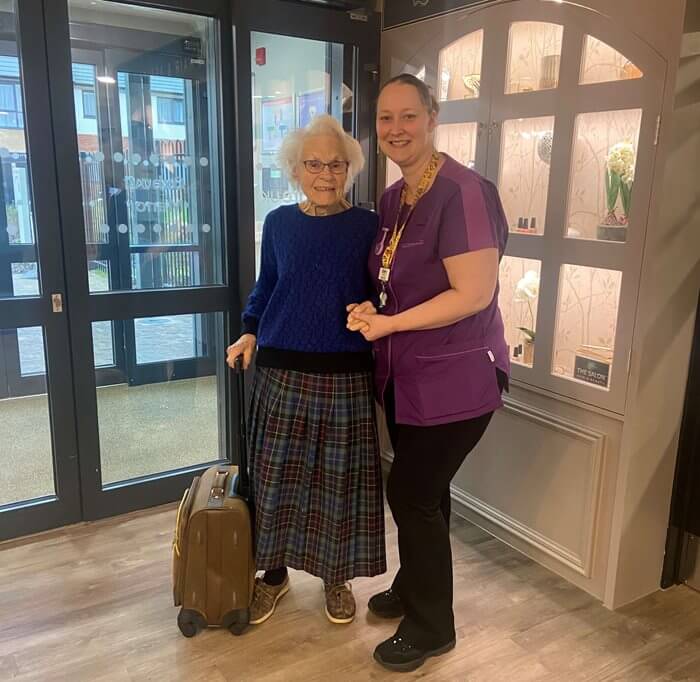 Sheila was greeted with tea and cake when she arrived, and spent time getting to know other residents and the team. Sheila also received a visit from the home's head chef who was keen to find out her favourite meals.
The new purpose-built care home in Shrewsbury will eventually provide full-time residential, nursing and specialist dementia care for up to 80 residents.
The layout of the building is configured into a series of four individual suites, each having its own en-suite bedroom, as well as their own dining room and lounge area. This allows for the creation of smaller communities within the home, which makes it easier for residents to form new friendships and get to know each other.
Oxbow Manor has also installed a 'Wishing Tree', an initiative launched by Care UK which allows residents to suggest ideas for new hobbies they'd like to try, places they'd like to visit or even activities linked to past careers. This encourages residents to live fulfilling lives – from skiing to a fish and chip supper, no wish is too big or small.
Sheila said: "Everyone has been so welcoming already and I'm really enjoying all the wonderful meals prepared by our chef. I've always been chatty and I love being around others, so I'm very much looking forward to making new friends at Oxbow Manor."
Lindsey Quegan, Home Manager at Oxbow Manor, said: "We are thrilled to have opened our doors to the first residents at here at Oxbow Manor. We've had the pleasure of welcoming Sheila and spent time getting to know her and her life stories.
"Seeing residents start to move into Oxbow Manor is a real pleasure. We are extremely pleased with the design of the home, and every single detail has been taken into account to produce a high-quality, luxurious setting that will allow residents to live active and fulfilling lives. Oxbow Manor has been beautifully furnished to create the ideal environment for older loved ones to live comfortably.
"The team and I are very much looking forward to getting to know all the new residents and welcoming them and their families into our beautiful new home."
Designed to enable residents to live active and fulfilled lives, while also promoting independence, the new care home, which is set to open in January 2023, will incorporate space for hobby and leisure activities, and feature its own cinema, café and hair salon.
To find out more about Oxbow Manor care home, please contact Customer Relations Manager, Debra Blatchford, on 01743 598505, or email debra.blatchford@careuk.com.
For information about Oxbow Manor, please visit: careuk.com/oxbow-manor.