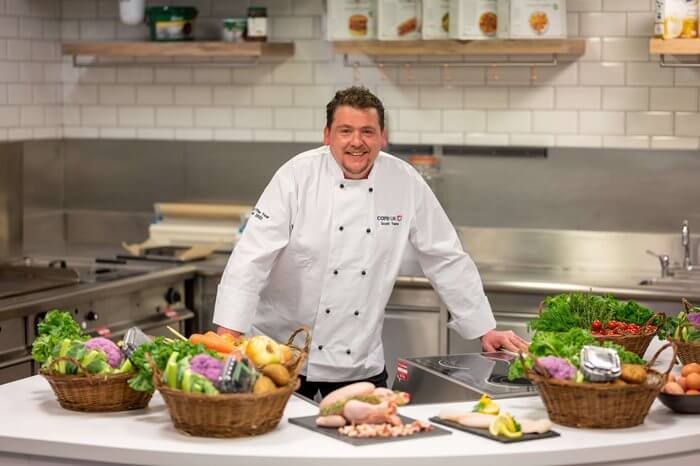 Commenting on the meals provided at Metchley Manor, one resident said: "I really appreciate the presentation. It makes eating much more enjoyable."
Mealtimes are incredibly important for all – not just for health and nutrition, but also as a social experience residents can look forward to and enjoy together – and the grand dining room at Metchley Manor is the ideal setting. Bright and spacious, it conjures up the feel of a five-star restaurant, and featuring a piano, residents often enjoy chatting and eating with live classical music to entertain them.
Whether we're creating appetising dishes, or baking cakes for residents to enjoy with a cup of tea, we strive to make a positive impact on residents' health and wellbeing
Scott Tame, Head Chef
Meals are produced in-house with fresh seasonal ingredients, and the residents and team even get involved by growing some their own produce. Herbs and vegetables are planted and looked after by residents and the team in the sensory garden, which is part of the home's reminiscence suite for residents living with dementia.
Menus are carefully crafted using feedback from residents, making sure that they reflect the wishes of those in the home and offer plenty of choice. And if anyone doesn't fancy what's on the menu that day, that's fine too – Chef Scott and the team are happy to create dishes on request at any time, including light bites such as sandwiches, salads and soup for those wanting something smaller.
As part of its dining experience, the home regularly hosts themed meals and events which are chosen by the residents – these have included for Chinese New Year, Diwali, and a Caribbean day in honour of two residents from Grenada.