Whether you provide round-the-clock care at home or pop

in to

a care home a couple times a week to visit with an older person with dementia, understanding how to better care for people with the condition can have a transformative effect on your relationship with your loved one.
How should you react when mum calls you by the wrong name? Should you take your dad out even though he gets anxious in new environments? There's not always a right answer for every situation, but there are tips and tricks to make connecting with someone living with dementia possible.
Care UK has worked with dementia experts and innovators in the design and technology industries to understand the best ways to care for someone with dementia. Keep reading for advice for caring for your loved one.
What is the best way to care for someone with dementia?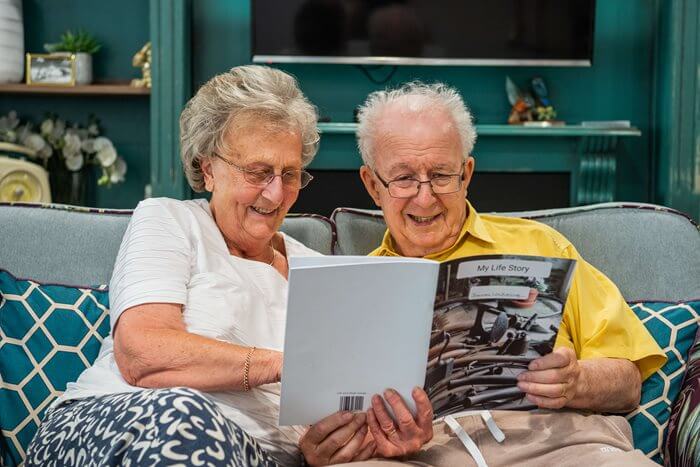 The best dementia care is personalised care. This means that as someone close to a person living with dementia, you often hold the key to supplying the best possible care yourself – even if you don't realise it.
For example, in our homes we use life story books to influence a resident's care plan. Everything from their favourite foods to pastimes they've enjoyed throughout their life, and even their hopes and dreams for the future, are written down in their life story book to ensure carers in the home know to talk to and connect with each resident.
How do you keep someone with dementia happy?
Finding ways to spark joy and happiness is key to caring for someone with dementia. When you're visiting a loved one or caring for them yourself, it's important to focus on exploring and enhancing those positive emotions. Often, family and friends of someone living with dementia will be surprised at how much happiness their loved one can still feel, as these emotions can be overshadowed by the symptoms of dementia.
Think about hobbies your loved one enjoyed as a child or an adult, as these can bring back happy memories and calm feelings of distress. If it's knitting that your loved one had a passion for, help them rediscover the knack for it, or simply offer up a skein of yarn for them to hold – the feel of it alone could be enough to stir up lost memories. Maybe they enjoyed, gardening, jigsaws or playing an instrument. Whatever it is, bringing these activities back into their life can have a multitude of positive effects.
If it's knitting that your loved one had a passion for, help them rediscover the knack for it, or simply offer up a skein of yarn for them to hold – the feel of it alone could be enough to stir up lost memories.
For those with advanced dementia, communication may become difficult, so try a technique called Namaste care that focuses on physical touch. A simple hand massage can have real calming effects on someone living with dementia. Read more about Namaste care.
What activities help dementia?
Reminiscence activities help people living with dementia drawn on their longer-term memories, which are typically much stronger, helping to bring back positive emotions.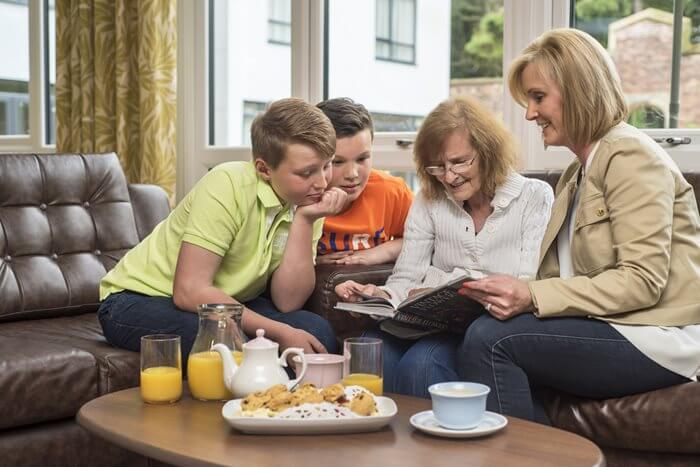 If your loved one was a whizz in the kitchen, try cooking or baking with them – using their hands to mix ingredients or knead bread will also help boost motor skills. If they were a nature lover, getting out in the garden by helping to plant flowers or simply watching the birds and bees can be an enjoyable and relaxing way to spend an afternoon. Try these 10 dementia-friendly activities to spend more time with your loved one and help enrich their life.
Staying active is important – it can even slow the progression of dementia – so don't be afraid to get out and about too. You may worry about your loved one getting confused and agitated, and these are valid feelings. But getting out doesn't have to be a full-day trip to the seaside. A simple walk around the garden can work wonders, as can a walk to the shops.
Maintaining routines daily routines can also help your loved one stay active. Build up your confidence with simple visits to known destinations, and then try planning a trip to somewhere new. Bringing along a friend may also help if you're feeling overwhelmed.
If you need more tips for planning an outing, read our 'Good to go' guide for advice on where to go, what to bring and how to handle any complications that come up.
How do you talk to someone with dementia?
You might be wondering whether any conversations should be off limits with your loved one. What should you not say to someone with dementia?
Tips for communicating with someone living with dementia:
Be specific. Ask simple, straightforward questions. For example, offer choices when you ask a question. Instead of 'What would you like to eat today', try 'Would you like to eat a sandwich or soup today?'
Watch body language. Are they trying to tell you something but struggling to find the words?
Live in your loved one's reality. If you try to correct or contradict them, it may cause distress.
Meet them where (and when) they are. Trying to bring them back to the present can cause confusion and frustration. If they're traveling back in time, let them, and try to engage them by bringing up happy memories and experiences.
Don't talk over them.
Don't tell them they've already told you a story before.
Don't say too much at once.
Don't correct them if they call you by the wrong name.
Don't take it personally if they feel distressed and develop behaviours that challenge.
Celebrating occasions when a loved one has dementia
While noisy and busy celebrations might be out of the picture, there are still numerous ways to have fun with people who are living with dementia during big occasions like the festive season. We've put together a few guides to help you make the most of these special days:
Looking for more advice?
Discover our six tips for having meaningful conversations with people living with dementia, and read more about effective communication.
How Care UK can help
Our care homes provide award-winning care that you can trust, and every care home colleague goes through bespoke dementia training that helps them understand what it's like to live with the condition.
If you're interested in learning more about our approach to dementia care, get in touch with your nearest care home.