A pig has been hog-ging the limelight at a Copthorne care home after team members surprised a resident with a pet pig from his farm.
Tony Eaglestone, a resident at Care UK's Francis Court, on Borers Arms Road, was surprised to find his pet pig had made the home's guest list. Aware of his love of animals, the team at Francis Court contacted Tony's family to organise a surprise visit from his favourite animal – Blanket the pig!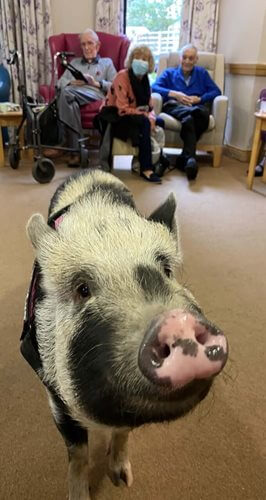 Tony has nurtured a lifelong love of animals after growing up on a farm and being surrounded by pigs, sheep, goats, and horses throughout his childhood. Equipped with expert knowledge, a caring nature and first-hand experience of looking after animals from an early age, Tony continued to keep farm animals throughout his life – but his favourite animal has remained pigs.
Overjoyed by being reunited with Blanket after being apart for six months, Tony and the residents spent an afternoon enjoying Blanket's company by showing him around the home, treating him to cuddles and taking him for a stroll around the home's garden. Blanket was later treated to an afternoon lunch where he 'pigged out' on snacks from the residents.
Commenting on the surprise visit, Tony said: "Blanket is much friendlier than many of the dogs I have had over the years. It was lovely to see him and to see how popular he was with the other residents."
Another resident, Laurie, said: "I stroked Blanket and was surprised at how bristly he was – he is lovely".
Anna Allen, Home Manager at Francis Court, adds: "We were delighted to be able to surprise Tony with a visit from his favourite pet – Blanket the Pig! It was wonderful to see Tony's face light up when Blanket strutted into the lounge and immediately 'hog-ged' everyone's attention with his charming personality and love for affection – Tony was certainly a proud pet owner.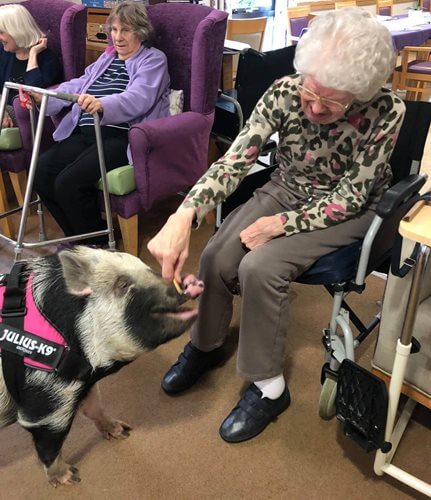 "Being in the company of animals has proven therapeutic benefits for older people, particularly for those living with dementia, as it can reduce anxiety, release calming endorphins, and decrease feelings of loneliness. You could see from the resident's reactions just how engaged they were when Blanket was around.
"We look forward to welcoming Blanket back soon for another visit as he certainly brought a lot of joy and delight to everyone at Francis Court."
Francis Court has been designed to enable residents to live active and fulfilled lives, while also promoting independence, and incorporates space for hobby and leisure activities. The layout of the building is configured into a series of individual suites, each having a dedicated lounge/dining room to help facilitate the creation of close-knit communities. The team provides full-time residential, dementia and nursing care.
For more information on Francis Court, please call Customer Relations Manager, Beverly Jordan, on 01342 886 567, or email beverly.jordan@careuk.com.
For general information please visit careuk.com/francis-court.