Residents at a care home in Bromsgrove received a standing oven-tion when they took part in a special baking competition.
Care UK's Chandler Court, on Recreation Road, hosted its very own edition of Bake Off, with residents challenged to cook up their favourite sweet treats.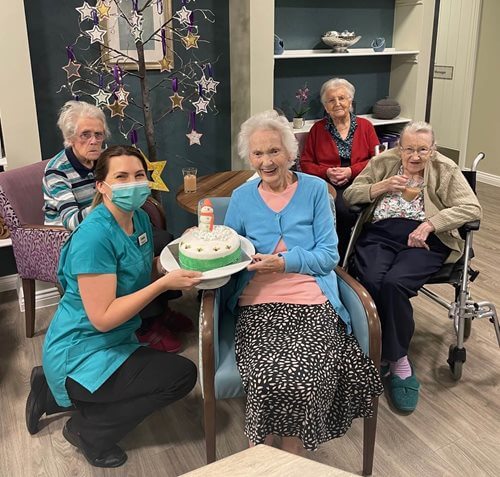 To show they have 'what it cakes' to be crowned star bakers, teams made of residents and colleagues, representing the home's suites, have been challenging each other over the course of several weeks to showcase their skills by preparing and decorating spectacular 'showstoppers', mirroring the show's famous format.
Cakes prepared on the day of the finals included 'Frosty the Snowman', an aptly named sponge cake featuring snowman-shaped icing, 'Forget me not', which was adorned with a recreation of the eponymous flower and 'A taste of the 60s', an ode to the iconic era. Despite the tough competition, the Windmill Suite, which came up with the winter-themed cake, was picked as the winner for the day, while the Sanders Suite who took the overall crown, having been named 'Star Bakers' five times over the course of the competition.
Windmill Suite resident Edna Scothern, aged 97, said: "I always used to bake at home with my family and it was lovely to learn some new recipes – it was a lovely surprise to see how talented everyone was at the challenges. My favourite cake is lemon drizzle – we baked one for our 'vegan week', with a recipe I'd never tried before!"
Vongai Mushinga, Home Manager at Chandler Court, said: "We are all big fans of the Bake Off here at Chandler Court, and we never miss a single episode.
"With so many enthusiastic, skilled bakers living at the home, we felt hosting our 'The Great Chandler Bake Off' was the best way to determine once and for all who the home's true 'star bakers' were. Everyone got very competitive, and we were blown away by the residents' creativity throughout the competition, and especially on finals day – it was hard to pick a winner.
"While no Hollywood handshakes were given that day, every cake got the thumbs' up from our head chef. We're looking forward to hosting our next baking challenge very soon!"
Chandler Court is a state-of-the-art care home which provides full-time residential, dementia and nursing care, as well as short-term respite care. Designed to enable its residents to live enjoyable and fulfilling lives, the care home has its very own cinema, café and hair salon, and there is plenty of space, both indoors and out, for relaxation and recreation.
To find out more about Chandler Court, please call Customer Relations Manager, Paul Chambers, on 01527 907 849 or email Paul.Chambers@careuk.com.
For more general information, visit careuk.com/chandler-court.