A local care home is inviting the local community to enjoy a unique time travelling experience.
To mark Dementia Action Week, from 10am-12pm and 1.30pm-3.30pm on Monday 16th to Thursday 19th May, the Care UK team at Parker Meadows, on Parker View, will be hosting its 'A Glimpse of the Past' event.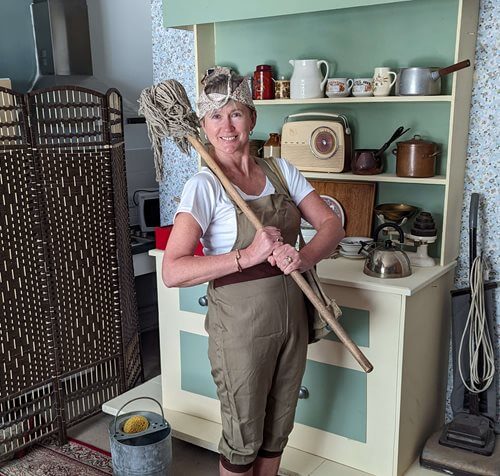 Throughout the week, visitors will have the opportunity to journey into the 1940s to experience what life was like over 80 years ago by visiting a specially transformed space, featuring vintage decorations and memorabilia. The event, supported by Titchfield Festival Theatre, is designed to encourage those living with dementia to enjoy familiar sensations and interactions, while prompting memories from their younger years.
The space will be decorated to reflect the era, complete with scents such as soap and home cooking, to help create an immersive experience, while team members will be dressed up in costumes from the time. During the week, classic cars will also be parked outside the care home for visitors to enjoy.
The team has also organised an array of family-friendly activities, including a traditional war-time singer, a choir and themed food and Mocktails made by the home.
General Manager at Parker Meadows, Matthew Smith, said: "We're incredibly proud of our team members' expertise when it comes to caring for people living with dementia here at Parker Meadows, and we're always happy to share our knowledge with the local community – which is why we're thrilled to be hosting our very own 'A Glimpse of the Past' event.
"Nostalgic activities are always popular among residents at the home and offer an array of benefits for residents living with dementia. Our 'A Glimpse of the Past' event is no different, as it is designed to allow relatives and members of the community to immerse themselves into the past. The experience will also encourage those living with dementia to reminisce and share memories from their younger years with family and friends – which felt like a fitting way to mark Dementia Action Week.
"We're really looking forward to welcoming local people for a week of time travel – you won't want to miss this."
As part of Dementia Action Week, Parker Meadows is also launching a free guide to support people whose loved ones have been diagnosed with dementia ahead of Dementia Action Week.
You can download a digital copy of the guide here: careuk.com/letstalkdementia.
Designed to enable residents to live active and fulfilled lives, while also promoting independence, Parker Meadows, which remains open to potential residents, incorporates space for hobby and leisure activities. The home provides full-time residential care, nursing care, dementia care and respite care in addition to Independent Living Bungalows. The layout of the building is configured into a series of individual suites, each having a dedicated lounge/dining room to help facilitate the creation of close-knit communities.
To book onto this free event at Parker Meadows, please call Jessica Wooldridge, Home Admissions Advisor, on 01329 889571, or email Jessica.Wooldridge@careuk.com or visit careuk.com/parker-meadows.