A care home in Bromsgrove made a resident's wish to attend a car show come true.
Lifelong car lover Bill Ewen, aged 83, and a resident at Care UK's Chandler Court, on Recreation Road, competed in a number of car shows across the UK for over 30 years with his MG Midget – and wished to attend a car show once again.
Upon hearing about his unique hobby, the team at Chandler Court decided to get in touch with the North Worcestershire MG Car Club and got busy organising a special visit to make Bill's wish come true.
As part of the wishing tree initiative, the team at Chandler Court encourage residents to submit wishes, no matter how big or small, whether they're related to something they've never been able to do, or something they'd like to do again.
On the day, the home arranged for Bill to have his very own car show where he was able to see a selection of MGs – one of which was the same model as his old beloved car. Bill and the visitors from the club, spent a happy couple of hours chatting about MGs and competing in car shows.
Vongai Mushinga, Home Manager at Chandler Court, said: "We had a wonderful time with the Worcestershire MG Car Club, and Bill loved every minute of it.
"Bill is a car-fanatic and always shares fond memories of the MG Midget car he had in his younger years. Going all over the country at cars shows and winning awards – it's fair to say his car trivia doesn't fall short!
"The whole team worked hard to organise the event and we're delighted we were able to make this happen for him – the joy in his eyes when he saw the exact same model said it all."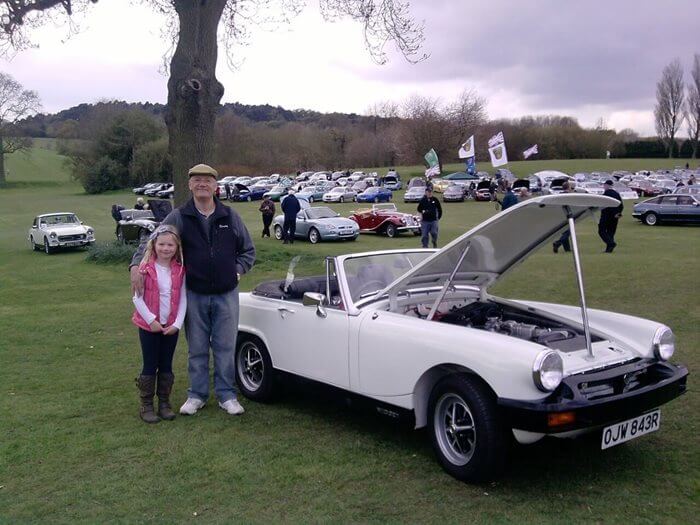 Amanda, Bill's daughter, added: "It was so lovely to see my Dad with a huge smile on his face while he enjoyed looking at the MGs. He was able to show photos and tell stories about his beloved car – it was a truly special day. I cannot thank the team at Chandler Court enough for making his wish come true."
Born on 6th October 1938, in Worcestershire, Bill bought his MG Midget car in his 40s and rebuilt it almost entirely from scratch. After working on the car on weekends in his garage for over a year, Bill became a member of the MG owners club where his prized possession was declared fit for show.
Attending car shows all over the country, including the annual Longbridge Rover car show, Bill won many awards and 'firsts in show'. He kept his car until 2019 when he decided it was time to sell it and let someone else make happy memories of their own.
Chandler Court is a state-of-the-art care home which provides full-time residential, dementia and nursing care, as well as short-term respite care. Designed to enable its residents to live enjoyable and fulfilling lives, the care home has its very own cinema, café and hair salon, and there is plenty of space, both indoors and out, for relaxation and recreation.
To find out more about Chandler Court, please call Customer Relations Manager, Paul Chambers, on 01527 907 849 or email paul.chambers@careuk.com.
To find out more about Chandler Court, visit: careuk.com/chandler-court.