Residents and team members at a care home in Poole have created 30 extra special hanging baskets to raise money for a deserving cause.
Residents at Care UK's The Potteries, on York Road, have teamed up with their neighbours at Acheson Construction, Knighton Countryside and GAP Ltd to create bright and colourful hanging baskets to raise money for the Alzheimer's Society.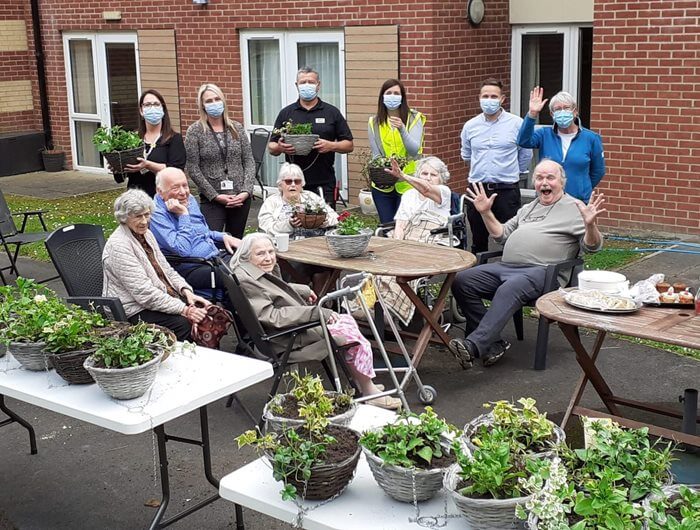 The Alzheimer's Society is a UK care and research charity for people living with dementia and their carers. The charity supports families and those living with dementia with expert advice and guidance, helping them through their most challenging days.
Acheson Construction, Knighton Countryside, GAP Ltd and Sovereign Housing provided baskets, soil and garden gloves, while the team and residents at The Potteries provided the plants.
The hardworking team members and residents spent an afternoon making the baskets alongside representatives Dan Coniam, Emma Driver, and Suzanne Murray from Acheson Construction.
The hanging baskets were to sold relatives and local businesses – raising £200 for Alzheimer's Society.
Zita Turner, Home Manager at The Potteries, said: "Eveyone had a wonderful afternoon creating the hanging baskets with our neighbours.
"We are always looking for creative ways to raise money for charity – and The Alzheimer's Society is particular close to all our hearts here at The Potteries. We are so pleased we were able to raise £200.
"I would like to say a special thank you to Acheson Construction, Knighton Countryside and GAP Ltd for helping us with this project and providing the materials we needed to make the hanging baskets. I would also like to thank Dan, Emma and Suzanne from Acheson Construction for joining us on the day – they certainly rose to the occasion!"
The Potteries has been designed to deliver the very best standards of care and to enable residents to live active and fulfilled lives in a luxury environment. The home provides full-time residential care, nursing care, dementia care and respite care, and also boasts plenty of space, both indoors and out, for relaxation and recreation.
To find out more about The Potteries, please contact Customer Relations Manager, Caroline Hearne, on caroline.hearne@careuk.com or call 01202 069835 or visit careuk.com/care-homes/the-potteries.