In the most unusual way, a Basingstoke care home resident has raised over £4,000 for charity.
Dennis Moulton, a resident in Care UK's Dashwood Manor, took to the skies earlier this year and jumped out of a plane at 15,000 feet.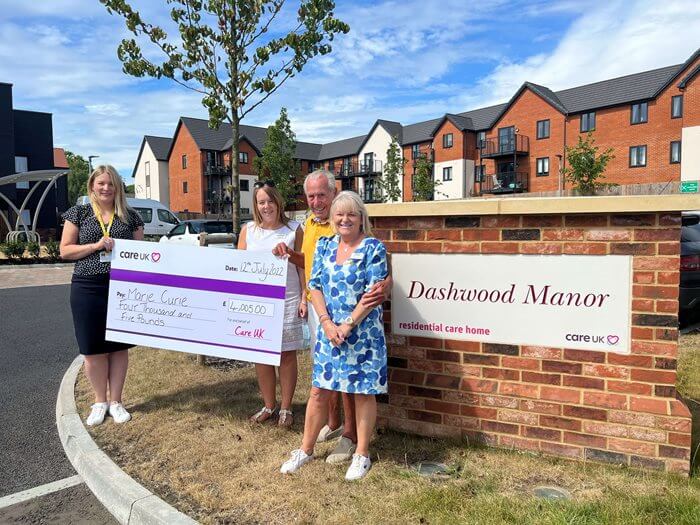 Dennis raised the funds in aid of the end-of-life charity Marie Curie, which provides highly skilled nursing care to people with terminal illness in its hospices and people's own homes across the UK.
A total of £4,005 was raised by Dennis and the team at Dashwood Manor – £1,000 over his target.
Dennis recently turned 90 and his birthday wish was to raise funds by jumping out of a plane and hand over the cheque to Marie Curie. Last week, Sally Sansom, Community Fundraiser for Hampshire & Isle of Wight, visited the home to meet with Dennis and thank him herself.
Sally said after meeting Dennis: "What a huge inspiration you are Dennis! Thank you for undertaking this incredible challenge on behalf of Marie Curie. The money raised will go towards supporting people all over the UK living with a terminal illness, and their loved ones. From everyone at Marie Curie, we hope you had a very happy 90th birthday."
Regional Director at Care UK, Eileen Coyle-Jones, and Customer Relations Manager at Dashwood Manor, Leahanne Wilkinson, who jumped out the plane with Dennis, were also there on the day to present Marie Curie with the cheque.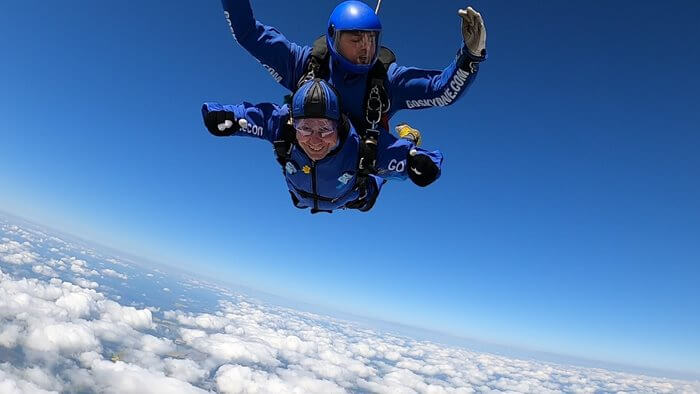 Dennis said: "I can't believe we raised so much it's marvellous. People gave so much, and I would like to thank everyone who donated. I was very proud to give Marie Curie the cheque in person."
Dil Perera, Home Manager at Dashwood Manor, said: "We were thrilled to have helped Dennis complete his lifelong wish to skydive while also raising vital funds for a very deserving charity.
"We are ecstatic that we smashed Dennis's target raising £4,000 – we would like to thank everyone who donated towards our fundraiser and a special thanks goes to Care UK for matching our funds raised using Care UK's Working with the Community match funding scheme.
"We would like to thank Sally from Marie Curie for coming to Dashwood Manor and thanking Dennis for his efforts in person. We had a lovely morning, and we were so pleased we were able to fulfil Dennis's birthday wish to hand over the cheque to Marie Curie.
"The team at Dashwood Manor are now on the lookout for the next wish we can complete for a resident – the sky's the limit!"
Designed to enable residents to live active and fulfilled lives, while also promoting independence, the new care home, which opened in September 2021, incorporates space for hobby and leisure activities. Luxury facilities includes a café, hair and beauty salon, cinema and bar, and stunning gardens.
For more information about Dashwood Manor, visit: careuk.com/Dashwood-Manor.
Watch Dennis's skydive