Two Epsom care home residents were given the VIP treatment after being upgraded to the players' lounge at Wimbledon.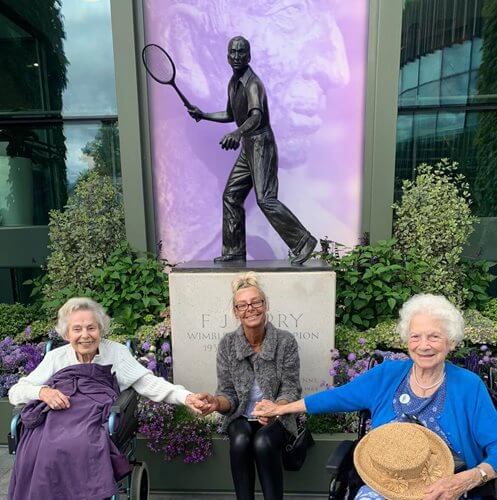 The Care UK team at Appleby House care home on Longmead Road, surprised two of its biggest tennis fans, Bridget Parry and Pat Redvers-Smith, with the full VIP treatment at this year's Wimbledon tournament – tickets to Centre Court to see tennis champion Rafael Nadal.
On the day, Bridget and Pat, visited Wimbledon's Museum to learn more about the history of the sport, before being treated to VIP access to the tennis player's lounge, where the two enjoyed their lunch admiring Centre Court with strawberries and cream.
Commenting on the visit, resident Bridget said: "I have always loved tennis and get great enjoyment from Wimbledon in particular. To be there again after so many years was very special, I particularly enjoyed watching one of my favourites play – Rafa Nadal."
Pat added: "It was all very thrilling, everyone was so kind. Everyone involved made it such a special day, it was really nice to have had the company of Bridget."
Shona Bradbury, Home Manager at Appleby House, said: "Everyone at Appleby House knows how much tennis means to Bridget and Pat – so it was fantastic to be able to surprise them with tickets to Wimbledon and create such a memorable experience.
"Here at Appleby House, it is important to us that our residents continue to enjoy their hobbies and passions into their later years. We often encourage residents to dream big and share their hopes and ambitions with us.
"It was fantastic to see the smiles on Bridget and Pat's faces when Rafael Nadal walked onto Centre Court, and to hear them excitedly recalling their visit to the other residents when they returned home.
"We look forward to making more memorable experiences for the residents at Appleby House over the summer."
Appleby House has been designed to encourage residents to live active and fulfilling lives, while remaining as independent as possible in a safe environment. The modern care home provides full-time residential, nursing and specialist dementia care.
To find out more about Appleby House, please call 0333 4343 002 or email Home Manager, Shona Bradbury, at Shona.Bradbury@careuk.com.
For more general information, visit careuk.com/appleby-house