A local care home resident was part of the 'mane event' at Newbury racecourse.
Rosemary Adamski, aged 94, a resident at Care UK's Winchcombe Place, on Maple Crescent, was treated to a day at the races after making the request on the home's Wishing Tree.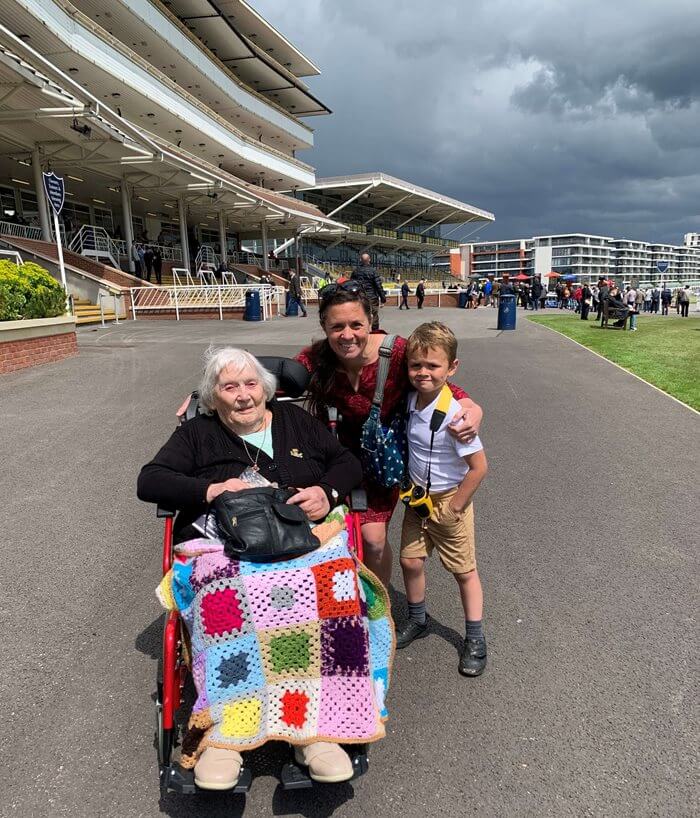 The trip was part of the home's 'Wishing Tree' Initiative, which encourages residents to put wishes forward, allowing them to reconnect with a past hobby or try something completely new – from flying a plane to enjoying a fish and chip supper, no wish is too big or small.
Horse-racing enthusiast Rosemary attended the Newbury Races regularly as a child when her father, a Brigadier General in The Royal Artillery, would come home on leave. When the team learned about her wish to return, they got to work and reached out to Newbury Racecourse, who helped them make their wish to visit again come true.
On the day, Rosemary watched the races with her family and her grandchildren came along too, all getting up close to the action and parade ring.
Rosemary said: "It brought back so many good memories of when I went as a child with my father - it felt just like old times!"
Vicki Lambourne, Customer Relations Manager at Winchcombe Place, added: "We had a wonderful day out at the Newbury Races and the smile on Rosemary's face said it all.
"Here at Winchcombe Place, we always encourage residents to pursue new hobbies or continue to enjoy their favourite pastimes, as it's a great way to keep the brain active and encouraging reminiscence. Rosemary has fond memories of going to the races regularly with her father in her younger years – so when she made the wish to go back, we knew we had to make it happen.
"We'd like to say a big thank you to the Newbury Racecourse for making the day extra special – we're already looking forward to our next visit."
Winchcombe Place is a state-of-the-art care home which provides full-time residential, nursing, dementia and short-term respite care. The care home incorporates space for hobby and leisure activities and includes its own cinema, hair salon and café.
To find out more about Winchcombe Place, call Customer Relations Manager, Vicki Lambourne, on 0333 321 1923, or email vicki.lambourne@careuk.com.
For more general information, visit careuk.com/winchcombe-place.