Several residents at a care home in Stansted were delighted when their footballing dreams came true.
Avid Tottenham Hotspurs supporters, 93-year-old Mary, 67-year-old Ian and 87-year-old Patricia, from Care UK's Mountfitchet House, were surprised with a trip to visit the club's new stadium.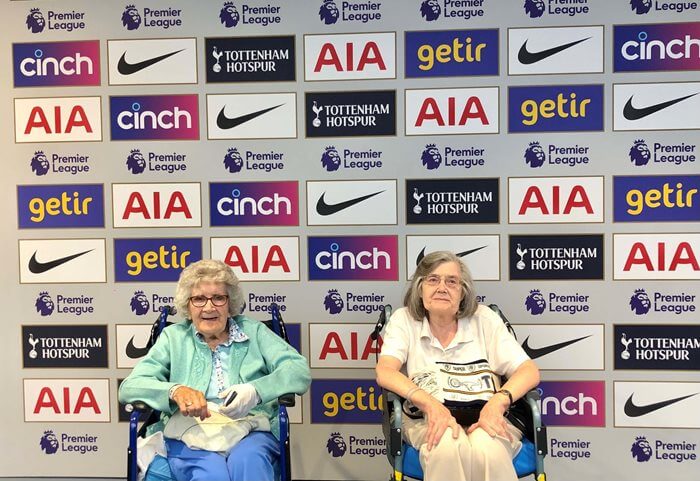 The trio, who have all supported the team since they were young, had not yet been able to see the White Hart Lane replacement, which opened in 2019. Knowing how much it would mean to each resident to be able to take a tour, the team set about organising a very special surprise.
The trip was particularly special for Patricia (Pat), who remembers having to stand in the boys' pen to watch the games at the age of 13 with her father, grandfather and uncles. In her twenties, she joined the supporters club, where she watched games with other Spurs fans. During Tottenham vs Blackpool on 18th October 1952, when Pat was 17, she got chatting to a young man next to her, who put his arm around her when leaving the game. This man went on to be the love of Pat's life – her husband, Edwin.
Pat said: "The whole day was exceptional. It's hard to choose my favourite part as it was all so good, but I especially enjoyed being able to go on the pitch!"
Joanna Duke, Home Manager at Mountfitchet House, added: "We had a fantastic day out touring the new Spurs stadium with Mary, Ian and Pat.
"Here at Mountfitchet House, we are always looking for new ways to ensure our residents lead fulfilling lives – whether that's organising a trip out for the day or going all out to organise the surprise of a lifetime.
"The team have been hard at work trying to make this happen for our three dedicated football fans, and we are so pleased to have been able to create life-long memories that will stay with Mary, Ian and Pat for years to come."
Designed to enable residents to live enjoyable and fulfilling lives, Mountfitchet House has its very own cinema, bar and hairdressers, and there is plenty of space both indoors and out for relaxation and recreation.
For more information, contact Customer Relations Manager at Mountfitchet House, Jade Rackham, on jade.rackham@careuk.com or call 01279 883849.