A care home resident in Basingstoke has completed a lifelong wish – and he's now on a real high.
82-year-old Roger Mashall, a resident at Care UK's Dashwood Manor, took to the skies and had his very first flying lesson.
When Dashwood Manor first opened in September 2021, the team installed a 'Wishing Tree', an initiative launched by Care UK which allows residents to suggest ideas for new hobbies they'd like to try, places they'd like to visit or even activities linked to past careers. This encourages residents to live fulfilling lives – from skiing to a fish and chip supper, no wish is too big or small.
After his friend and fellow resident, Dennis Moulton, jumped out a plane at 15,000 feet for charity earlier this year, Roger was inspired to complete his life-long dream which was to fly a plane.
Roger has always had an interest in aircrafts. He joined the army as an apprentice in 1956, where he worked as a mechanic and was then sent to a regiment to fix a variety of small, armoured reconnaissance vehicles.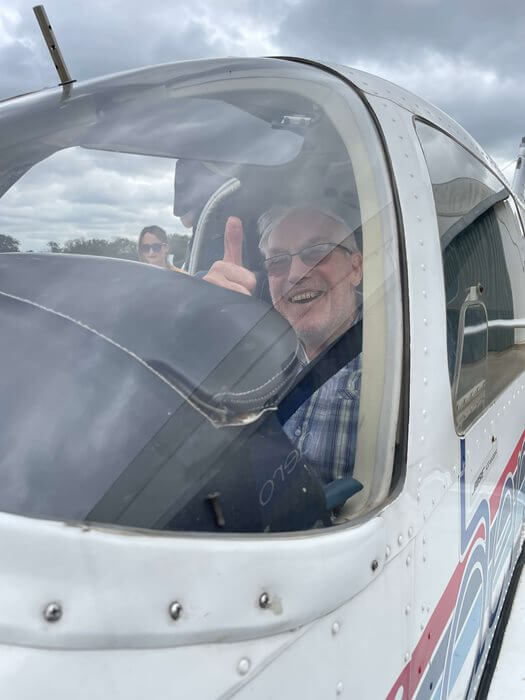 He was called in to work on aircrafts for a short time, but didn't find the experience to be what he imagined, so returned to his original trade. Though he was happy in his job, he occasionally thought about what may have been and had a yearning for aircrafts.
Using a connection he had, Roger finally flew as a passenger in a light aircraft in the 70s. He took in the views of Seattle and described the trip as a once in a lifetime experience. The trip made Roger even more eager to learn to fly a plane himself.
After he moved into Dashwood Manor, Roger was not sure if his dream would ever become a reality, but once he saw the teams' efforts to make his friend Dennis's wish come true. He was inspired to put his wish on the wishing tree.
The team wasted no time getting the wish off the ground and soon the day came for the flight. They arrived at Blackbushe Airport, in Camberley, at 10am and after some training on the ground, Roger took to the skies for a lunchtime flight.
Roger said: "It was a brilliant experience which I would do over and over again. To take control of the plane gave me a real sense of freedom and power. The views were spectacular and very green. I am so happy the weather was in our favour!"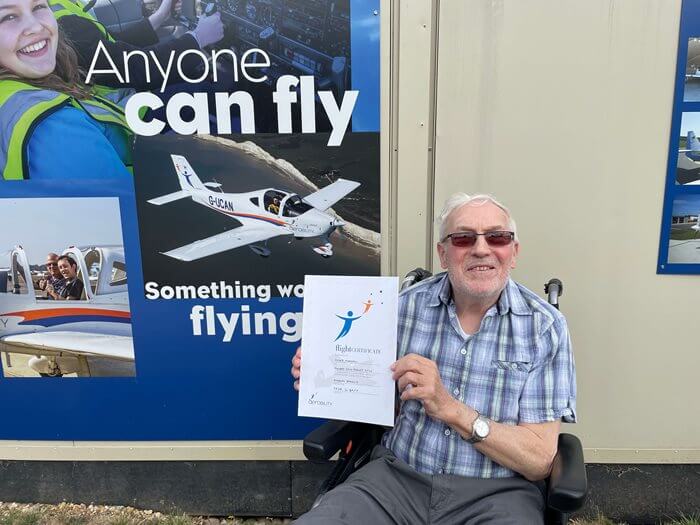 Dil Perera, Home Manager at Dashwood Manor, said: "Here at Dashwood Manor, no wish is too big or too small and so when Roger said he wanted to fly a plane we knew we had to make his dream a reality.
"We are thrilled to have helped Roger complete his lifelong wish and it was wonderful to see the smile on his face as he landed after his flight.
"The team at Dashwood Manor have organised many wishes for residents in the past 12 months including the skydive for Dennis, a tattoo for Helen, a resident who wished for a tabby cat tattoo, and now a flying lesson for Roger. I am very proud of the team who consistently go above and beyond to make resident wishes come true.
"I cannot wait to see what wish we organise next – the sky really is the limit!"
Designed to enable residents to live active and fulfilled lives, while also promoting independence, the new care home, which opened in September 2021, incorporates space for hobby and leisure activities. Luxury facilities includes a café, hair and beauty salon, cinema and bar, and stunning gardens.
To find out more about Dashwood Manor, please call Customer Relations Manager, Leahanne Wilkinson, on 01256 805988, or email leahanne.wilkinson@careuk.com.
For more information about Dashwood Manor, visit: careuk.com/dashwood-manor.