A care home in Sevenoaks hit the right note with a brand-new, music-inspired project.
Residents at Care UK's Weald Heights, on Bourchier Close, enjoyed a drum and keyboard session as part of an ongoing music therapy initiative.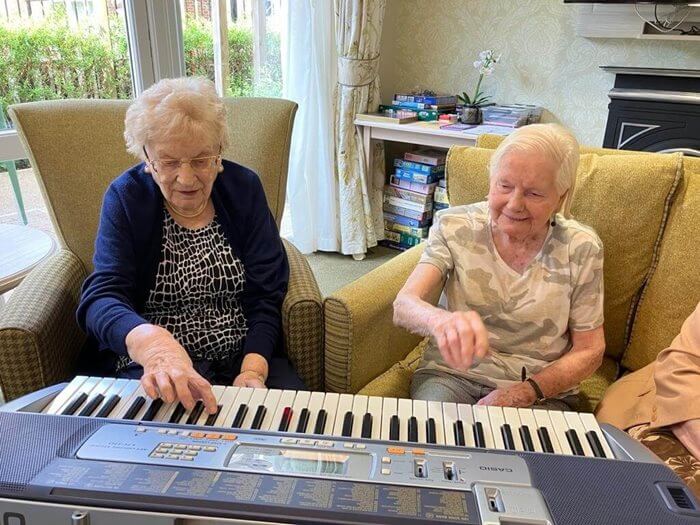 The initiative consists of weekly sessions featuring a variety of instruments for residents to try – from drums and maracas to keyboards and guitars. As part of their latest session, residents and team members learned more about the history of drums and keyboards, and also had the opportunity to tap their feet along to the beat of drums for the musically talented performers.
Commenting on the musical afternoon, resident Alec who owns one of the keyboards, said: "I'm delighted my keyboard is bringing so much joy to my friends at Weald Heights. Music is such a great way to bring everyone together."
Marian Covington, Home Manager at Weald Heights said: "Our music therapy sessions are definitely a highlight every week for many residents – it's amazing to see the smile on their faces when they start hearing the music or playing the instruments.
"Music therapy has become a very popular activity when supporting older people, especially those living with dementia, as it can help people to tap into powerful memories and nostalgia while offering them an alternate way to communicate. In addition to these benefits, the sessions also create an opportunity to work on our best dance moves and coordination, which is an essential component of falls prevention.
"Watching residents' confidence and skills improve every week has been wonderful, so we're looking forward to our next musical activity and showcasing the resident's musical talents in a performance."
Weald Heights is a purpose-built care home designed to deliver luxury hotel-style comfort for residents, complete with a café, hair and beauty salon and cinema and garden. The home is divided into separate residential, nursing and dementia care suites, encouraging close-knit communities where residents can get to know each other, and where people with similar needs can be cared for together.
For more information on Weald Heights, please call Customer Relations Manager, Amelia Moore, on 01732 809 189, or email amelia.moore2@careuk.com or visit: careuk.com/weald-heights.