A care home in Quorn stepped back into the eighties to celebrate reaching not one but two milestones.
Residents and team members at Care UK's Lonsdale Mews, on Farley Way, donned their shell suits and headbands to enjoy a day celebrating all things eighties to mark the home's second birthday and the care provider's 40th anniversary.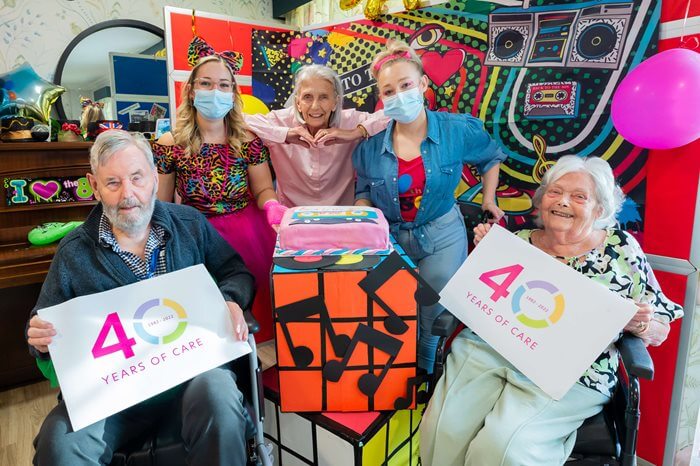 Residents were treated to a live performance from local singers, Sam and Danielle, who performed classic hits from throughout the decade. After a good sing-along, everyone enjoyed a buffet prepared specially by the home's chef for the occasion, as well as a home-made birthday cake in the shape of a music cassette.
The birthday extravaganza marked Lonsdale Mews being open two years, as well as the final hurrah for Care UK's 40th anniversary. Team members have also taken part in a charity walk and hosted a 1980s themed quiz night to raise funds to mark the milestones. All funds raised will be donated to the Alzheimer's Society.
Commenting on the evening, one of the first residents to move into the home, Harry said: "I've enjoyed seeing all the different things the team has organised since I have lived at Lonsdale."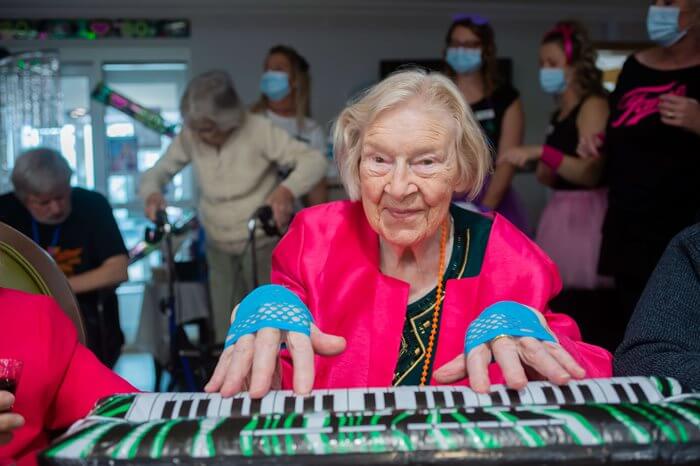 Resident Elisabeth added: "We have had such a fun afternoon and all the outfits were so fantastic!"
Toby Sturgess, Home Manager at Lonsdale Mews, said: "With Care UK turning 40 and our own home turning two, team members went all out to organise the ultimate eighties party for residents to enjoy. We had fantastic decorations, themed outfits and live entertainment to ensure our party was a wonderful success!
"It was fantastic to hear residents recalling their favourite memories from the 80s, as they rediscovered the iconic style and music from the decade. Everyone had fun celebrating our second birthday along with Care UK's 40th milestone – it was undoubtedly one of the highlights of the year."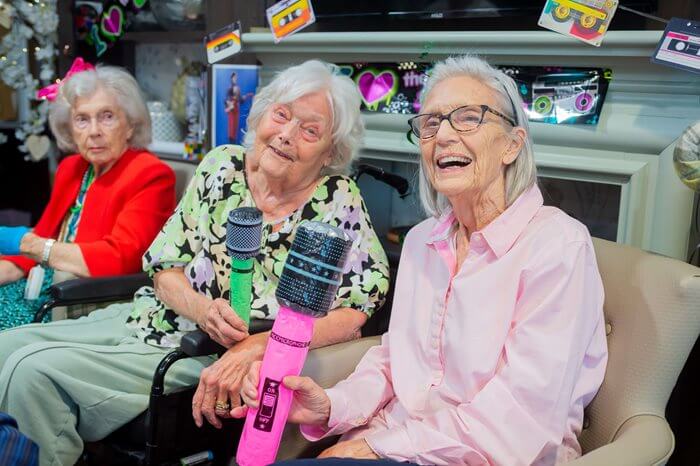 Lonsdale Mews offers full-time residential and dementia care, as well as short-term respite. The home incorporates space for hobby and leisure activities and includes its own cinema, hairdressing salon and café. The layout of the building is configured into a series of individual suites, each having a dedicated lounge/dining room to help facilitate the creation of close-knit communities.
To find out more about Lonsdale Mews, please call Customer Relations Manager, Jenny Cartwright, on 01509 801 587, or email jenny.cartwright@careuk.com.
To find out more about Lonsdale Mews, visit: careuk.com/lonsdale-mews.