A group of residents from a care home in Eye were delighted when their wish to relive their working days was made a reality.
When the team at Care UK's Hartismere Place, on Castleton Way, learned that 96-year-old Queenie Kingfisher wanted to visit a pig farm to spend time with the animals, they arranged a day that was far from boar-ing.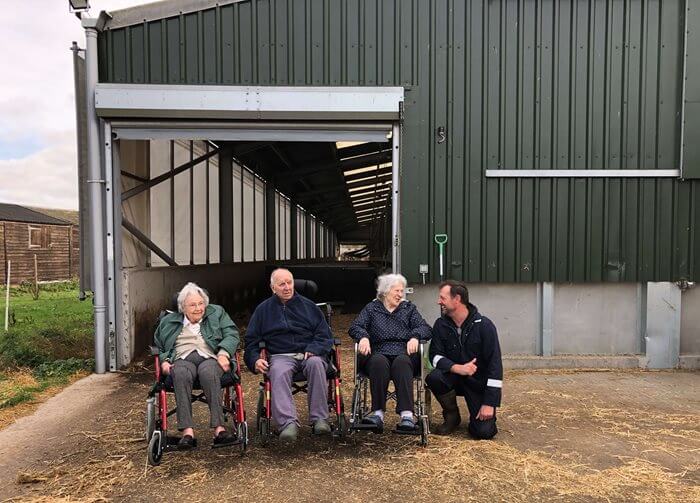 Right up until moving into Hartismere Place, Queenie kept pigs and cows, and ran her own local milk delivery service. Still having a soft spot for the animals, Queenie keeps a memory box full of memorabilia from her farming days outside of her room, and was keen to see the beloved animals up close once again.
Queenie was also joined by residents Sue Mercer, aged 86, and John Catchpole, aged 84, both of whom also had connections to farming from their younger days.
When her children were growing up, Sue and her husband lived on a farm where they kept pigs, while John spent many of his younger days working as a pig farmer, and worked with Mark, who showed the residents and team around Cranley Green Farm, Eye.
Commenting on the trip, Queenie said: "It was lovely to go to the farm, it reminded me of when I used to keep pigs. I'd stay in the stables with the sows when they were giving birth and talk to them for reassurance – they used to talk back!
"I once hand reared a piglet who went on to have 18 piglets of her own – it would be lovely to return to the farm in the spring and hopefully see some piglets!"
The visit was part of the home's Wishing Tree initiative, which encourages residents to put wishes forward, allowing them to reconnect with a past hobby or try something completely new – from flying on a plane to enjoying a fish and chip supper, no wish is too big or small.
Claire Martin, Home Manager at Hartismere Place, added: "Queenie loves to talk about her time farming pigs and cows and enjoys reminiscing and trading stories with Sue and John – when they shared their desire to visit the farm, we were keen to make it happen.
"Our Wishing Tree initiative is a great way for residents to share their goals and it's hugely rewarding to be able to make these a reality. Queenie, Sue and John loved being back in the familiar farm environment, surrounded by the animals, and learning about how things have changed over the years.
"The three of them had such a great day – they haven't stopped talking about it since and are already planning to return. I'd like to say a big thank you to everyone who helped make this an unforgettable day for our farming trio."
Hartismere Place has been designed to deliver the very best standards of care and to enable residents to live active and fulfilled lives. The home provides full-time residential, residential dementia, as well as short term respite care.
To find out more about Hartismere Place, please contact Senior Customer Relations Manager, Angela Hodge, on 01379 888276 or email angela.hodge@careuk.com.
For general information, visit careuk.com/hartismere-place.