A care home in Stansted marked the festival of light, Diwali, with an afternoon celebrating Hindu culture.
Residents at Care UK's Mountfitchet House, on Coltsfield, celebrated the festival of light by learning about traditional outfits, food and dancing.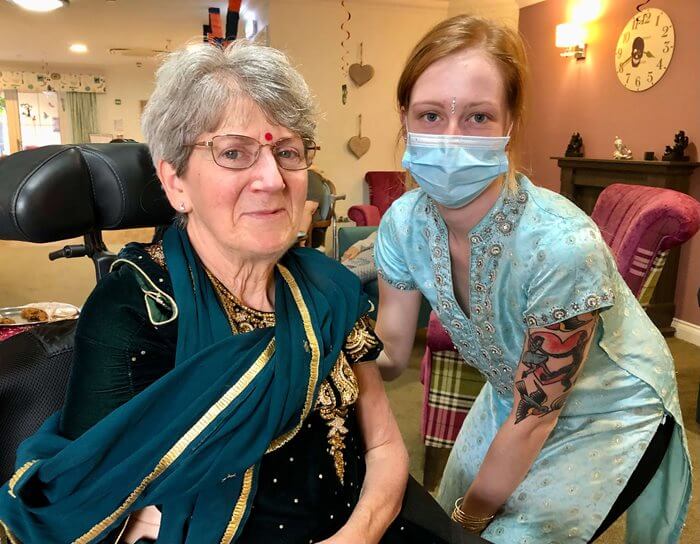 As part of the celebrations, Nina, part of the Lifestyle Team at Mountfitchet House, brought in a host of saris, bhindis and bangles for residents and team members to try on, providing an insight into the traditional outfits worn for Hindu celebrations. Nina also brought some traditional, homemade treats, including bhaji's and samosas, for everyone to try.
Residents were also treated to a performance of traditional Indian dance by some of the home's talented team members.
Dr. Clare Bell, a resident at Mountfitchet House, said: "When I was younger, I spent a few months in India training to be a doctor, but I never got the chance to celebrate Diwali. I've really enjoyed learning more about the culture and the traditions associated with the festival and it was a lovely way to reflect on my own experiences of Indian culture too."
Joanna Duke, Home Manager at Mountfitchet House, added: "Here at Mountfitchet House, we strive to make sure the home is a warm and welcoming environment for everyone, where different cultures and interests are celebrated regularly.
"Residents love the opportunity to try new things and were delighted when some of our team members suggested celebrating Diwali. None of the residents had celebrated Diwali before, so this was a fantastic opportunity for them to learn more about the Hindu festival of light and why it's important.
"Everyone had a lovely time learning more about Diwali and we're already looking forward to next year's celebrations!"
Mountfitchet House is a state-of-the-art care home which provides full-time residential, nursing, dementia and short-term respite care. The care home incorporates space for hobby and leisure activities and includes its own cinema, hair salon and café.
For more information on Mountfitchet House, please call Customer Relations Manager, Jade Rackham, on 01279 883849, or email jade.rackham@careuk.com.
For more general information, please go to careuk.com/mountfitchet-house.