Residents at two care homes in Birmingham have been passing on their advice to the younger generation as part of a nationwide initiative.
Residents at Care UK's Metchley Manor and Edgbaston Manor, in Birmingham, have been sharing advice about how to live a long and happy life with grandchildren and team members, as part of a new intergenerational project – Wisdom Booths.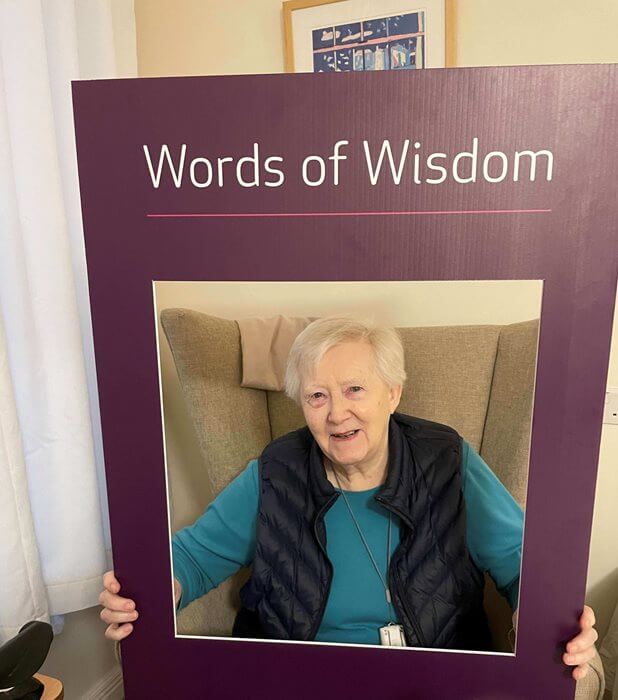 The Wisdom Booths initiative sees Care UK homes across the UK share their advice with younger generations after a national survey found 88% of people nationwide are grateful for what they've been told by their elders and 56% will always rely on them for advice, regardless of how old they are.
The pearls of wisdom at Metchley Manor included 96-year-old resident Shirley's advice to team members, where she said: "Remember you can't change the past, you must live in the moment and enjoy it – while always looking to a better future."
Resident Barbara added: "People shouldn't be afraid to take risks. Too many people have regrets over what could have been – be daring!"
At Edgbaston Manor, 90-year-old resident, Christopher, gave marital advice to team members: "In order to have a good relationship, you should always agree with your wife. That is the secret to a happy marriage!"
84-year-old resident, Pat added: "Younger generations today should listen to us older generations. They could learn a few things about life from us as experience brings lessons."
Kim Marie Newton, General Manager at Metchley Manor, said: "We had a great time taking part in Wisdom Booths – the initiative gave us a wonderful opportunity to put our creativity to the test by creating our own Wisdom Booth area and hearing resident's words of wisdom about how to stay happy when times are tough was incredibly insightful.
"Intergenerational activity is a fantastic way to provide older people with a sense of purpose, which is beneficial to supporting residents' wellbeing. Everyone loved reflecting on their earlier years and sharing their insights and reflections with younger people facing similar life dilemmas."
Zoe Steventon, General Manager at Edgbaston Manor, said: "It has been wonderful to see residents, team members, and grandchildren spending time together and we've all loved hearing everyone's words of support and advice. We'd like to say a huge thank you to the residents for sharing their pearls of wisdom – they've certainly given us food for thought."
For more information about Care UK's 'Wisdom Booths' initiative, visit: careuk.com/wisdom-booths.
Metchley Manor and Edgbaston Manor have been designed to deliver the very best standards of care and to enable residents to live active and fulfilled lives, while also promoting independence. The homes have been configured into a series of neighbourhoods to help facilitate the creation of close-knit communities and encourage social interaction among the residents. There is also plenty of space, both indoors and out, for relaxation and recreation.
For more information on Metchley Manor, please call Director of Community Relations, Zoe Doherty on 0121 667 2047, or email zoe.doherty@careuk.com.
For more information on Edgbaston Manor, please call Home Admissions Advisor, Natasha Phillips on 0121 314 9908, or email Natasha.Phillips@careuk.com.