A keen knitter at a local care home has created 50 poppies to raise money for the Poppy Appeal.
Phyllis Restall, a 93-year-old a resident at Care UK's Pear Tree Court, on Portsmouth Road, has been knitting poppies for Remembrance Sunday for 20 years. Phyllis originally stepped up to the challenge after seeing a call-out for poppies for the annual ceremony at her local church.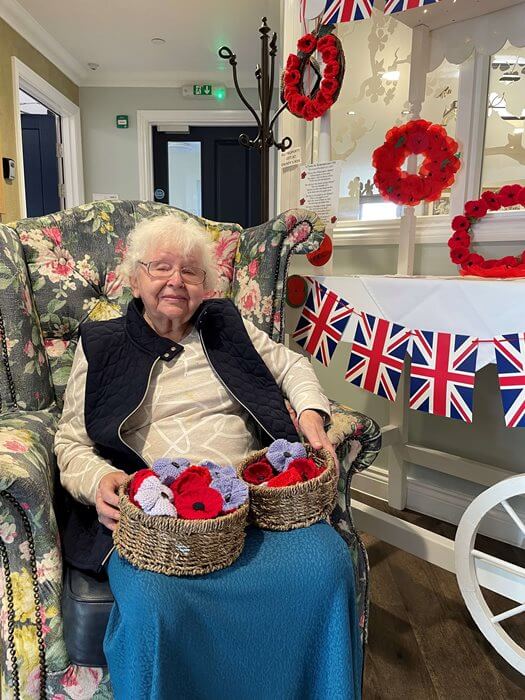 Phyllis also made three knitted wreaths and purple poppies for the animals that died in the war, which will all be displayed during the St George's Church's Remembrance Day celebration in Waterlooville. The woolly flowers will then be sold, and any proceeds will also be donated to the Royal British Legion's Poppy Appeal.
Phyllis had help making the poppies from Marge Selby a volunteer at Pear Tree Court.
Phyllis said: "I really enjoy knitting the poppies every year and knowing they'll be given to the church for other people to enjoy makes all the hard work worth it."
John Mataruse, Customer Relations Manager at Pear Tree Court, said: "We are thrilled that Phyllis and the other ladies used their talents for such a worthy cause.
"Crafts and other creative activities can promote positive wellbeing for older people, especially those with dementia, in a variety of therapeutic ways by stimulating their minds and giving them a sense of purpose.
"Due to the fact that many of the residents experienced the Second World War, this time of year has a special significance for many of them. Phyllis had the great opportunity to take part in Remembrance Day traditions by knitting poppies, which also brought back happy memories of her grandmother teaching her how to crochet when she was a little girl.
"Phyllis and the other residents have amazing skills, and the team has been blown away by it. We are so proud of their creations, 'wool' done, everyone!"
Phyllis was born on 22nd October 1929 in Dorchester and worked in a torpedo factory during the war. Her grandmother taught her how to knit when she was just five years old, and Phyllis hasn't stopped knitting since. She has created a host of clothes for local shops, including shawls and baby clothes and was approached by Butterick Patterns – the UK's largest fabric store – to knit a bespoke jumper which was later displayed at a Bournemouth exhibition.
Pear Tree Court is a state-of-the-art care home which provides full-time residential, nursing and dementia care, as well as short-term respite care. Designed to enable residents to live enjoyable and fulfilling lives, the care home has its very own cinema and hair salon, and there is plenty of space both indoors and out for relaxation and recreation.
To find out more about Pear Tree Court, please call Customer Relations Manager, John Mataruse, on 02392 986773 or email john.mataruse@careuk.com.
For more general information, please visit careuk.com/pear-tree-court.