A 91-year-old retired schoolteacher and resident at a care home in Kidderminster has been passing on her advice as part of a nationwide initiative.
Ann Capewell, a resident at Care UK's Brook Court, on Oldnall Road, has been sharing advice and memories from her 35 years spent teaching as part of a new project – Wisdom Booths.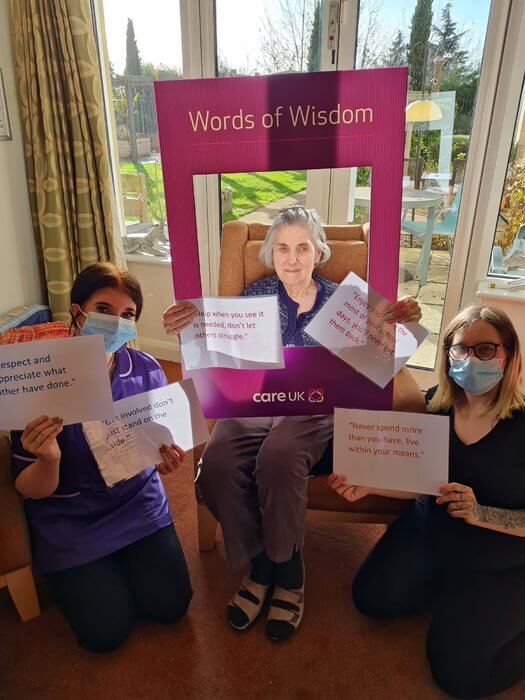 The Wisdom Booths initiative sees Care UK homes share their advice with younger generations after a national survey found 88% of people in the UK are grateful for what they've been told by their elders and 56% will always rely on them for advice, regardless of how old they are.
Ann's advice for those going into teaching included: "you need a lot of patience and understanding to keep the children interested – the children's parents may need help and guidance too", and to "get involved – don't just stand on the side."
Kay Mayes, Customer Relations Manager at Brook Court, said: "We had a fantastic time taking part in Ann's insightful 'words of wisdom' session.
"Here at Brook Court, we understand that reminiscence activities have been proven to be stimulating for older people as it prompts conversations, increases wellbeing and can provide a sense of purpose.
"It has been wonderful to hear the Ann's advice and her many memories of her years teaching."
For more information about Care UK's Wisdom Booths initiative, visit: careuk.com/wisdom-booths
Brook Court is a state-of-the-art care home which provides full-time residential, nursing, dementia care, as well as short-term respite care. The care home, which features 67 en-suite bedrooms, has been designed to enable its residents to live active and fulfilled lives, while also promoting independence. The care home incorporates space for hobby and leisure activities and includes its own cinema, hairdressing salon and café.
To find out more about Brook Court, please call on 01562 814 715, email Customer Relations Manager, Kay Mayes, on kay.mayes@careuk.com or visit careuk.com/brook-court