Residents at a care home in Orpington invited a group of young to a special Christmas celebration.
Care UK's Foxbridge House, on Sevenoaks Road, hosted a festive party at their home and invited the 9th Orpington Air Scouts to join in the fun.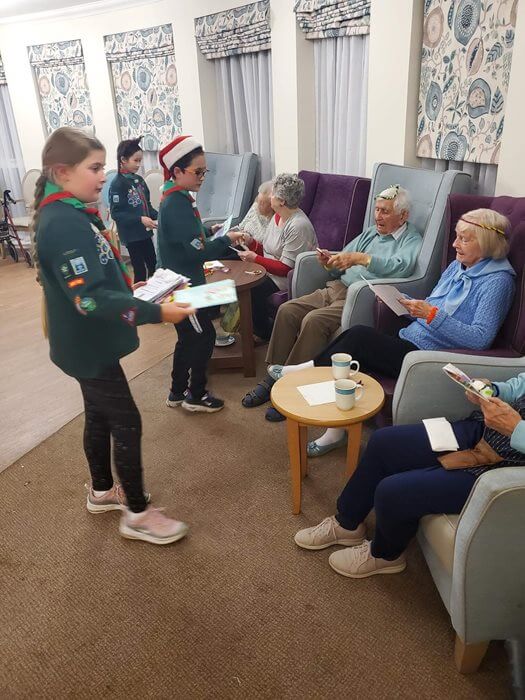 Residents received Christmas cards that were homemade by the children, they also played several games, including 'human Christmas wrapping', and sang Christmas carols.
When asked about the visit, the children talked about how they had enjoyed trying to guess the age of a 102-year-old resident. They were equally interested when the octogenarian revealed that he was a gunner in the Second World War at Biggin Hill.
On leaving, the young Cubs invited the residents to their Scout hut and asked if they could return to Foxbridge House every day.
Stella Barnes, Home Manager at Foxbridge House, said: "Having young people in the home always creates a lovely energy as they are so inquisitive and love chatting with the residents. Recipients of the cards loved opening them – which were made by the children – and reading the lovely messages inside.
"Intergenerational relationships have shown to be incredibly fulfilling, as they give younger and older generations a chance to learn from one another. These connections can be especially helpful for older people as they can provide a sense of purpose and spark discussions about their younger years.
"We'd like to say a huge thanks to all of those who took part, and we look forward to visiting their Scout hut very soon!"
The Care UK home has been designed to deliver the very best standards of care to enable residents to live active and fulfilled lives. Foxbridge House provides full-time residential, nursing and dementia care, as well as short-term respite care. The home has a wealth of facilities, including a hairdressers, beauty salon and a cinema.
For more information about Foxbridge House, please call Customer Relations Manager, Dorothy Ayonmike, on 01689 769 229, email dorothy.ayonmike@careuk.com or visit careuk.com/foxbridge-house