A St Ives primary school welcomed a very special audience to watch its performance of the nativity this festive period.
Residents from Care UK's Field Lodge, on London Road, were delighted to be invited along to watch the children of Thorndown Primary School perform their annual nativity performance – this year called the 'Bethlehem Bake Off Special'.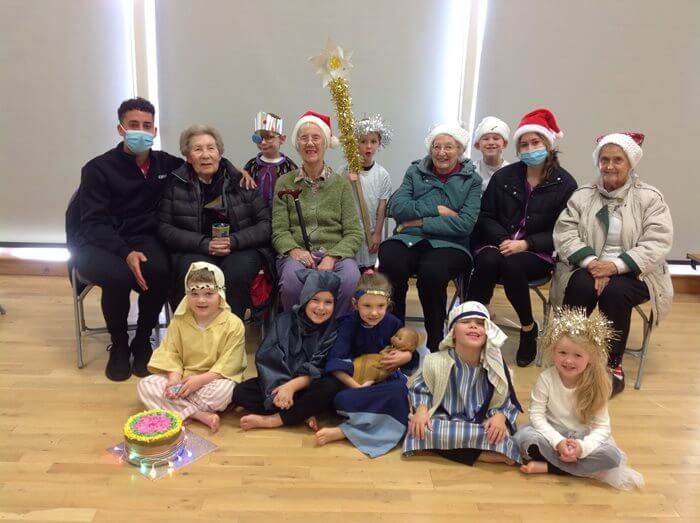 Impressed with their re-telling of the Christmas story, residents even got to meet the young cast after the show, and were delighted to congratulate Mary, Joseph, and the rest of the pupils on their efforts to learn their lines and for their beautiful singing.
Resident, Jennifer, said: "We had a wonderful visit to Thorndown Primary School, and it was a real pleasure to have a special meet and greet with the children too. They were all so talented – I was very fond of one of the children who knew every single word and action!"
Linda Martinez, Home Manager at Field Lodge, added: "We had a wonderful time watching the children at Thorndown Primary School performing their nativity – they're certainly a talented bunch!
"Here at Field Lodge, we strive to play an active role in our community, and to provide residents with opportunities to make new connections, young or old, and take part in the festivities of community life.
"Whether it's a former teacher reminiscing on their days of practicing for a nativity with their own class, another resident reflecting on watching their own children perform at Christmas, or simply enjoying the company of their younger friends, this tradition is a great way to put a smile on the faces of older people, and ensure they are able to experience the magic of Christmas.
"We'd like to say a big well done to the children, who were absolutely fantastic, and a huge thank you to Thorndown Primary School for inviting us as VIPs – we can't wait to come back again next year!"
Field Lodge is a modern, purpose-built care home providing full-time residential, nursing, and dementia care, as well as short-term respite care. Designed to enable residents to live enjoyable and fulfilling lives, the care home has a choice of lounges and dining rooms, along with facilities such as an activity room, cinema and hair salon.
For more information about Field Lodge and to book your free place, contact Home Manager Linda Martinez on Linda.Martinez@careuk.com or call 01480 877638
For general information, visit careuk.com/field-lodge