A retired structural engineer and 92-year-old resident at a care home in Stratford-upon-Avon has been passing on his advice to the younger generation as part of a nationwide initiative.
Jim Leighfield, a resident at Care UK's Care UK's Ambleside, on Evesham Road, has been sharing career advice with team members' children as part of a new intergenerational project – Wisdom Booths.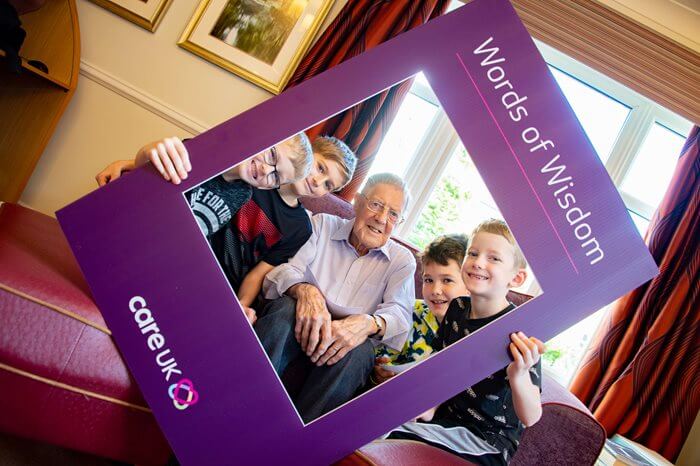 The Wisdom Booths initiative sees Care UK homes across the UK share their advice with younger generations after a national survey found 88% of people nationwide are grateful for what they've been told by their elders and 56% will always rely on them for advice, regardless of how old they are.
Resident and retired structural engineer, Jim, shared his expert advice and tips for a long and successful career from his time working in the railway industry.
Jim's advice included: "You need to work hard at school as nowadays you'd need to go to university to do my job.
"If you have a dream job in mind, study the relevant subjects that will help you get that dream job."
Studying at the Brixton School of Building for three years, Jim dedicated his time to obtaining his National Certificate in Structural Engineering – also taking up an on-the-job placement to gain experience in his final year.
Jim moved to Stratford-upon-Avon in 1962 where he began his career in the railway sector, becoming a structural engineer for steel railway bridges across Cornwall and Devon before going on to do his national service for two years, where he was posted as an Air Traffic Controller. Upon completing his service, Jim went on to design and help build bridges over the A38 near Ivybridge for the Great Western Railway, now named British Rail.
Staci Reeson, Customer Relations Manager at Ambleside, added: "Intergenerational activities are a huge part of life here at Ambleside, and it was fantastic to be joined by team members' children to discuss the career advice that Jim had to share from his own experience.
"Intergenerational relationships have shown to be incredibly fulfilling, as they give younger and older generations a chance to learn from one another. These connections can be especially helpful for older people as they can provide a sense of purpose and spark discussions about their lives.
"We'd like to say a huge thanks to the teams' children for coming along and participating, and we look forward to welcoming everyone into the home again very soon!"
For more information about Care UK's 'Wisdom Booths' initiative, visit: careuk.com/wisdom-booths
Ambleside is a state-of-the-art care home which provides full-time residential, dementia and nursing care, as well as short-term respite care. Designed to enable its residents to live enjoyable and fulfilling lives, the care home has its very own cinema, café and hair salon, and there is plenty of space, both indoors and out, for relaxation and recreation.
To find out more about Ambleside, please contact Customer Relations Manager, Staci Reeson on 01789 868 298, email staci.reeson@careuk.com or visit careuk.com/ambleside