Residents at two care homes in Dorset have been reading well-known bedtime stories to local school and scout groups as part of a nationwide initiative to celebrate National Storytelling Week.
Dorset may seem a little quieter than usual after residents from Care UK's Ferndown Manor, in Ferndown, welcomed Parley First School into the home for a retelling of Paddington Bear by Michael Bond.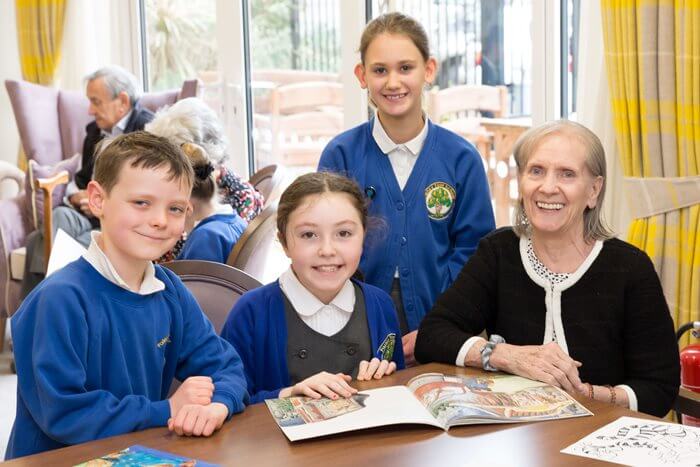 At The Potteries, in Poole, 87-year-old resident Sheila La Riviere, read her own book about Scouting that she wrote in 2002, to Broadstone Girl Guides. The group were keen to hear her top tips and own accounts from her time in the organisation.
Sheila La Riviere said: "I really enjoyed reading to the children and being able to pass on my knowledge and experience to them."
To celebrate National Storytelling Week, Care UK has created the Bedtime Stories initiative which sees residents across the UK read classic bedtime stories to young children. The campaign, which includes the launch of four free videos of residents reading famous stories, ensures children who may not have a grandparent do not miss out on a magical tale before bedtime.
Sara Muslin, Home Manager at Ferndown Manor, said: "We've had a wonderful week of storytelling here at Ferndown Manor. Whether it's Peter Pan flying us to Neverland or Alice taking us down the rabbit hole, children's literature is often the first key to unlocking our imaginations and nurturing a lifelong love of reading – so it was great to welcome Ferndown First School to Ferndown Manor.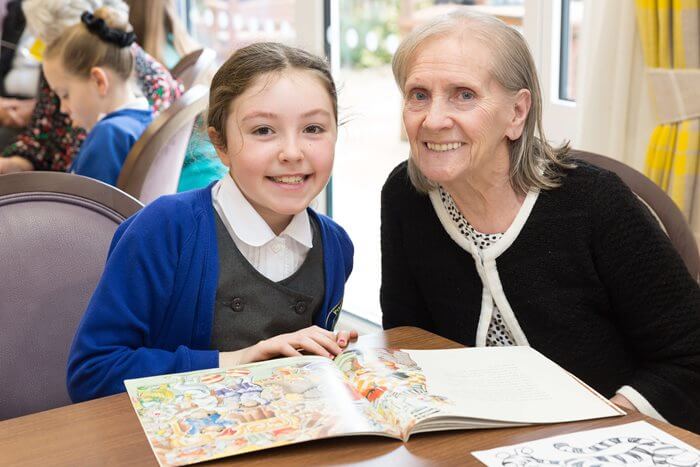 "We all remember stories told to us as children, often before bedtime, and find comfort in adulthood in these nostalgic memories. We're thrilled Care UK has launched the bedtime stories initiative – it's wonderful to have children benefiting from residents reading them stories both in our home and right across the UK with the fantastic videos.
Zita Turner, Home Manager at The Potteries, added: "We always enjoy opening our doors to the local community, so it was fantastic to be joined by Broadstone Girl Guides group.
"Intergenerational activities are incredibly enriching for all ages and provide a fantastic opportunity for residents and children to interact with one another. The Scouts were able to soak up all the knowledge from Sheila and she benefited from gaining a different perspective from the children on her own book. It's fantastic to host a session such as this to allow the two generations to spend time with one another."
To watch four Bedtime Stories read by Care UK residents, or for more information about the Bedtime Stories initiative, visit: careuk.com/bedtime-stories
The Potteries and Ferndown Manor have been designed to deliver the very best standards of care and to enable residents to live active and fulfilled lives in a luxury environment. The homes provide full-time residential care, nursing care, dementia care and respite care and also boasts plenty of space – both indoors and out, for relaxation and recreation.
To find out more about these Care UK homes, contact Customer Relations Manager at Ferndown Manor, Robin Hill on robin.hill@careuk.com or call 01202 070799, or Customer Relations Manager at The Potteries, Caroline Hearne, on caroline.hearne@careuk.com or call 01202 069835.