A care home in Banbury has brought back a much-loved community club for older people living in the area.
The team at Care UK's Highmarket House, on North Bar Place, has created a new weekly social club to replace a popular club which was held at Ruscote Community Centre and was a lifeline for older people living in the community and sadly closed down due to the coronavirus pandemic.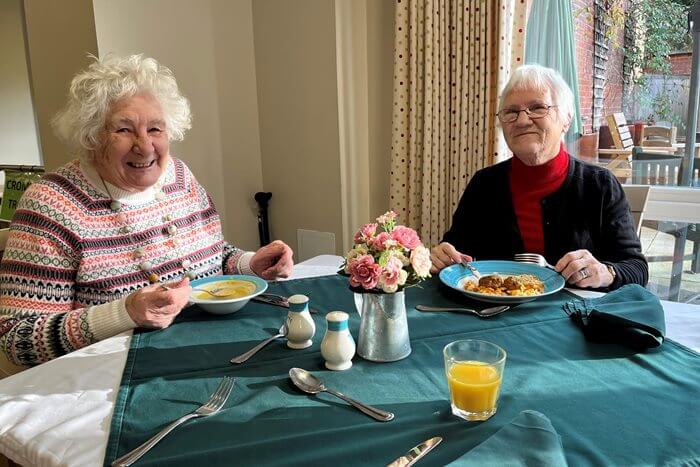 Knowing how important the club had been for older people living in Banbury, the team at Highmarket House decided to start its own version, opening the home's doors to anyone looking for some friendly company, a tasty lunch and a game of bingo. Not only are attendees treated to lunch at the club, but the lucky bingo winner will receive a hamper of fresh ingredients to take home too.
Little over a month after its launch, the social club has already proved enormously popular and has created blossoming friendships between residents and those living in the community, who look forward to their weekly meet-ups.
Sharing her experience, Sandra, a regular attendee of the social club, said: "I really enjoy going to the social club – it's a great way to meet new people and have a chat! The team are also incredibly helpful and caring, and it's nice to know someone cares."
Tara, who is also a member of the club, added: "I felt very welcomed to the group by both the team and the other attendees. The bingo was good fun and the food was really tasty – definitely a great way to spend my Friday lunchtime!"
Francesca Cowley, Home Manager at Highmarket House, said: "Our team has worked incredibly hard to get the social club up and running and we're thrilled with the feedback so far.
"We know how popular the old club was with the community – many of the residents loved it too – and it was really important to us that we could provide people a safe place for older people to socialise, make new friends and have some fun.
"We're looking forward to welcoming familiar and new faces to our next club and anticipate it will be an enjoyable afternoon for everyone!"
The Social Club takes place every Friday from 12:30 – 3pm.
Highmarket House is a state-of-the-art care home which provides full-time residential, nursing, dementia and short-term respite care. The care home incorporates space for hobby and leisure activities and includes its own cinema, hair salon and café.
For more information on Highmarket House please call Customer Relations Manager, Daniel Worley, on 01295 297596, or email daniel.worley@careuk.com
For more general information, please go to careuk.com/highmarket-house