Residents at a care home in Sutton Coldfield have been reading a collection of short bedtime stories to local children.
Sutton Coldfield may seem a little quieter than usual after residents from Care UK's Mercia Grange, on Lichfield Road, welcomed team members' grandchildren into the home for a retelling of The Tale of Jemima Puddle-Duck.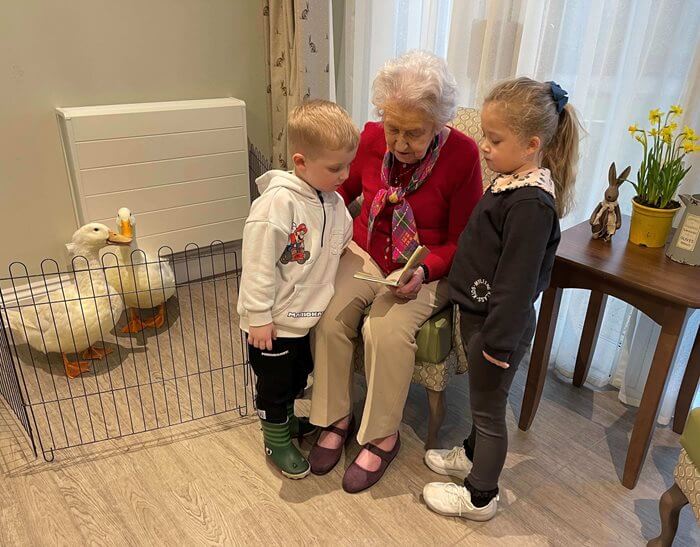 To celebrate National Storytelling Week, Care UK has created the Bedtime Stories initiative which sees residents across the UK read classic bedtime stories to young children. The campaign, which includes the launch of four free videos of residents reading famous stories, ensures children who may not have a grandparent do not miss out on a magical tale before bedtime.
Olwen Griffiths, a resident at Mercia Grange, read the popular story to the local children while the home's own ducks, Laurel and Hardy, also gathered around to hear more about the adventures of Jemima Puddle-Duck.
Olwen said: "It was lovely to tell the story of Jemima Puddle-Duck with our very own ducks here too".
Rachel Mackay, Customer Relations Manager at Mercia Grange, said: "We always enjoy opening our doors to the local community, so it was fantastic to be joined by team members' grandchildren.
"Intergenerational activities are incredibly enriching for all ages and provide a fantastic opportunity for residents and children to interact with one another. The youngsters were able to soak up a wonderful story and the residents benefited from gaining a different perspective from the children on a popular story. It's fantastic to host a session such as this to allow the two generations to spend time with one another.
"We thoroughly enjoyed hosting the 'Bedtime Stories' reading session with the children and hope that we have helped them to continue building a love of reading."
To watch four Bedtime Stories read by Care UK residents, or for more information about the Bedtime Stories initiative, visit: careuk.com/bedtime-stories
Mercia Grange is a state-of-the-art care home which provides full-time residential, nursing, dementia, and short-term respite care. The three-storey care home, which features 67 ensuite bedrooms, has been designed to enable residents to live active and fulfilled lives, while also promoting independence. The care home incorporates space for hobby and leisure activities and includes its own cinema, hair salon and café.
To find out more about Mercia Grange, please call Customer Relations Manager, Rachel Mackay, on 0121 314 3196, or email rachel.mackay@careuk.com
For more general information, please visit careuk.com/mercia-grange