Residents at a care home in Ware have been reading well-known bedtime stories to local nursery children as part of a nationwide initiative to encourage more young people to read.
Ware may seem a little quieter than usual after residents from Care UK's Snowdrop House, on Baldock Street, paid the youngsters at Stepping Stones Nursery a visit for a special storytelling session.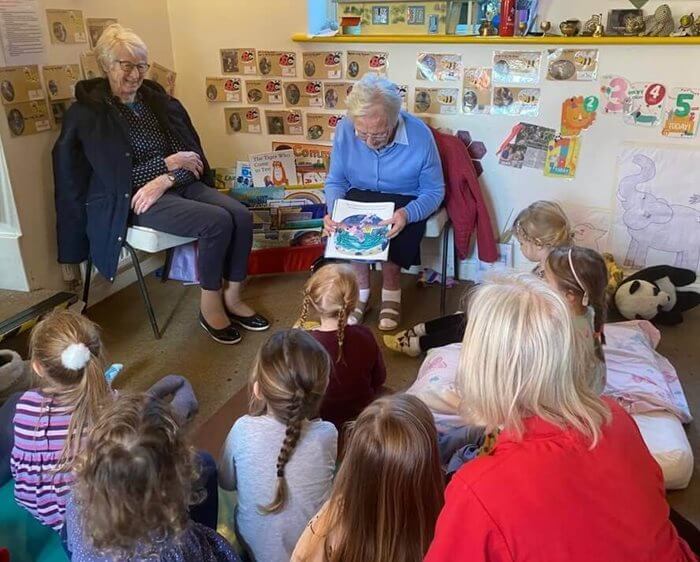 Care UK has created the Bedtime Stories initiative which sees residents across the UK read classic bedtime stories to young children. The campaign, which includes the launch of four free videos of residents reading famous stories, ensures children who may not have a grandparent do not miss out on a magical tale before bedtime.
At Snowdrop House, 85-year-old resident, Joan, read Goodnight Sleepy Unicorn, by Sienna Williams, to the children. Joan said: "It was wonderful to visit the children and spend time reading with them – it brought back fond memories of when I used to read to my own children, which I loved doing!"
Clare Crow, Home Manager at Snowdrop House, said: "It was great to visit the children at Stepping Stones Nursery – children's literature is often the first key to unlocking our imaginations and nurturing a lifelong love of reading so it's great to be able to support with this!
"We all remember stories told to us as children, often before bedtime, and find comfort in adulthood in these nostalgic memories. We're thrilled Care UK has launched the Bedtime Stories initiative – it's wonderful to have children benefiting from residents reading them stories both locally and right across the UK with the fantastic videos.
"It has been heart-warming to see the residents share stories from their own childhood and read some classic books with the children – we're already looking forward to our next activity with the children from Stepping Stones."
To watch four Bedtime Stories read by Care UK residents, or for more information about the Bedtime Stories initiative, visit: careuk.com/bedtime-stories
Snowdrop House is a state-of-the-art care home which provides full-time residential, nursing, dementia and short-term respite care. The care home incorporates space for hobby and leisure activities and includes its own cinema, hair salon and café.
To find out more about the home, contact Customer Relations Manager at Snowdrop House, Sharon Butler, on sharon.butler@careuk.com or call 01920 897553
For more general information, please visit careuk.com/snowdrop-house