A resident at a care home in Orpington celebrated her 108th birthday by revealing the secret to living a long and happy life.
A very special birthday celebration took place at Care UK's Foxbridge House, on Sevenoaks Road, when resident Mary Ann Clifton, known as Rosina, turned 108 years 'young' on 16th March.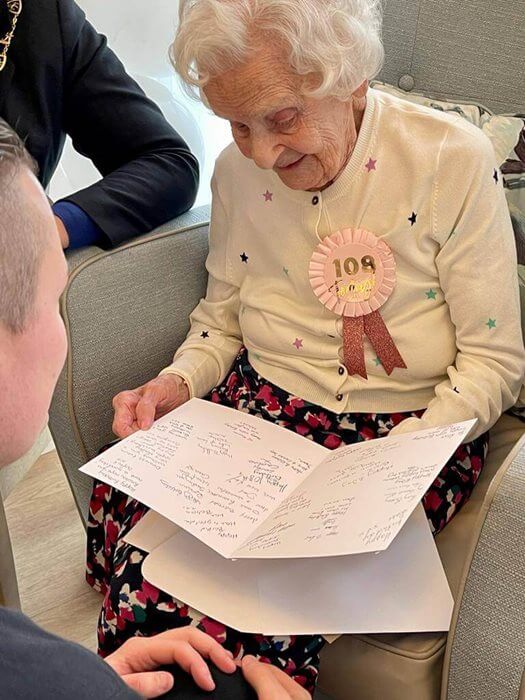 To mark the occasion, Rosina revealed the secret to a long and happy life is "a tipple at lunchtime", concluding that it's "never done me any harm". Rosina went on to add: "Work hard but party harder – a bit of hard work won't hurt you!"
For Rosina's milestone birthday, the home team organised an afternoon tea party, surrounded by her friends at Foxbridge House, and complete with a sing-along to music from the 1920s, 30s, and 40s, which got everyone in the party spirit. To add to the already long party list, the home invited Mayor of the London Borough of Bromley, Councillor Hannah Gray, who enjoyed a glass of bubbles with Rosina.
Rosina was born on 16th March 1915 in Lambeth, South London. After finishing school, Rosina followed her passion for fashion and worked as a clothing cutter, before later working at her daughter's printing business.
Rosina met her husband, Ernie Clifton, when they were both at school, aged 12. The couple share two children, Pamela and Bernie, four grandchildren, 10 great-grandchildren and seven great-great-grandchildren.
Stella Barnes, Home Manager at Foxbridge House, said: "Rosina is a much-loved and popular resident at Foxbridge House, and it was fantastic to help her celebrate this incredible milestone.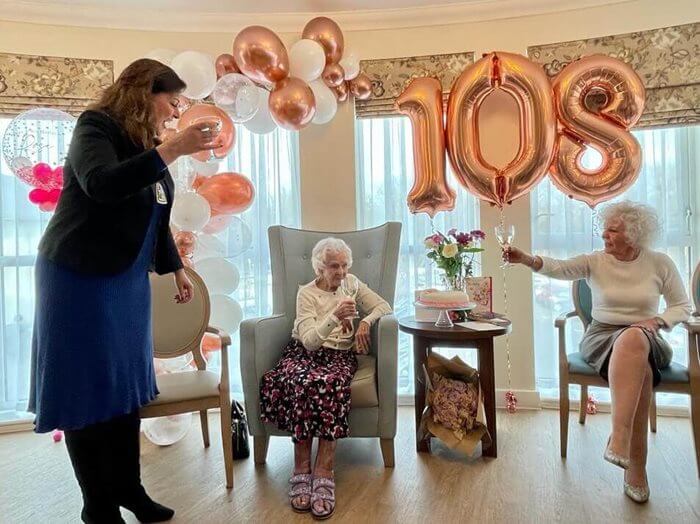 "It's not often that you celebrate your 108th birthday, so the team quickly got to work on planning a surprise afternoon tea party where we read out the King's birthday card message and enjoyed scones with jam and cream.
"We love to support residents to lead fulfilling lives here at Foxbridge House, and celebrating special occasions and birthdays plays a huge part in this. We love any excuse to celebrate the amazing people living here at Foxbridge House and Rosina's 108th birthday was certainly no exception. It was lovely to raise a glass of bubbles on her special day – cheers, Rosina!"
Foxbridge House has been designed to deliver the very best standards of care and to enable residents to live active and fulfilled lives. The home provides full-time residential, nursing and dementia care, as well as short-term respite care.

For more information about Foxbridge House, please call Customer Relations Manager, Dorothy Ayonmike, on 01689 769 229, or email dorothy.ayonmike@careuk.com
For more general information on Foxbridge House, please visit careuk.com/foxbridge-house