A resident at a care home in Chelsea celebrated her 102nd birthday with a very special party.
A very special celebration took place at Care UK's Ellesmere House, on Nightingale Place, when resident Nadia Kirkham turned 102 years 'young' on 10th March.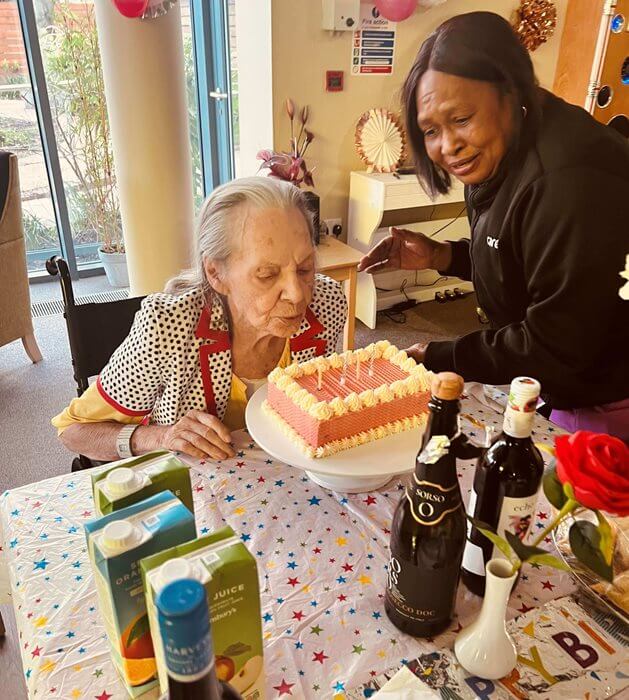 For Nadia's milestone birthday, the home team organised an afternoon tea party, surrounded by her friends at Ellesmere House, and complete with balloons, banners and a special birthday cake, baked by the home's talented Head Chef, for everyone to enjoy.
Commenting on her secret to reaching 102, Nadia said: "Dance every day and I promise you'll be happy. Also have a good sense of style – if you look good, you'll feel good too!"
Nadia was born on 10th March 1921 in Grove park London. After leaving school, Nadia worked in the military service. A keen traveller, Nadia has visited many countries around the world, with her favourite being Africa.
Tunde Hanti, Deputy Manager at Ellesmere House, said: "Nadia is a much-loved resident at Ellesmere House, and it was fantastic to help her celebrate this incredible milestone with her friends and family.
"Here at Ellesmere House, everything we do is focused on our ethos of ensuring residents live active and fulfilling lives, so we always like to celebrate important milestones – and Nadia's 102nd birthday was no exception. It was lovely to raise a glass together on her special day and celebrate the day in style with her extended family here at Ellesmere House."
Ellesmere House offers a full range of permanent residential care and short-term respite, including a café, hair and beauty salon, bar and cinema. The highly trained, professional team also delivers specialist dementia care.
For more information on Ellesmere House contact Deputy Manager, Tunde Hanti, on 0203 642 4460, email tunde.hanti@careuk.com or visit: careuk.com/ellesemere-house