Residents at a care home in Windsor were thrilled to receive a special surprise from some four-legged friends.
Knowing how many animal lovers and former horse riders there are at Care UK's Mountbatten Grange, on Helston Lane, the care home team decided to organise a unique treat in the form of a visit from horse drawn carriage.
On the day, the residents were surprised when the Household Cavalry Coach Troop were positioned just outside the home's front doors ready to gallop off on a trip around Windsor.
Residents were able to enjoy a spin in the carriage as well as interact with their new four-legged friends, Bentley and Classic.
Commenting on the experience, Jocelyn Baxendale, aged 83, a resident at Mountbatten Grange said: "It was magnificent! The horses were very big but so friendly. We gave them some carrots as a thank you. What a fantastic surprise to see Windsor by carriage."
Resident Jack Foreman aged 92 added: "I was so shocked to see the horses and carriage come around the corner! The soldiers were great and so helpful. Bentley and Classic were very clever pulling us in the carriage."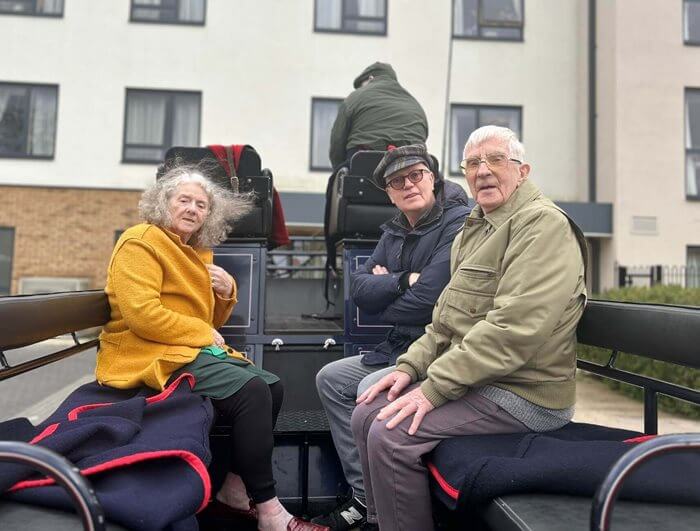 Debbie Winwood, Home Manager at Mountbatten Grange, said: "We're always on the lookout for new and exciting activities to put a smile on residents' faces here at Mountbatten Grange.
"It was wonderful to see the residents faces light up as they were toured around Windsor in their very own horse and carriage something that many of the residents had never experienced before.
"On behalf of the team and residents, I'd like to extend our thanks to Household Cavalry Coach Troop for allowing us to spend the afternoon being whisked around in the carriage – everyone had a wonderful time and we're already looking forward to our next animal encounter!"
Mountbatten Grange is a care home that provides residential, nursing and short-term respite care, as well as specialist dementia care. The home features 72 en-suite bedrooms and enables residents to live active and fulfilled lives while also promoting independence. Mountbatten Grange has its own café, hair and beauty salon and cinema.
To find out more about Mountbatten Grange, please contact Customer Relations Manager, Tracey Van Zyl, on Tracey.VanZyl@careuk.com, call 01753 307978 or visit careuk.com/mountbatten-grange