A resident at a care home in Banbury was delighted when her wish to experience the city of New York was made a reality.
When the team at Care UK's Highmarket House, on North Bar Place, learned that 63-year-old Kay Ogilvie wanted to live the American dream and visit New York City, they set out to bring the Big Apple to Banbury.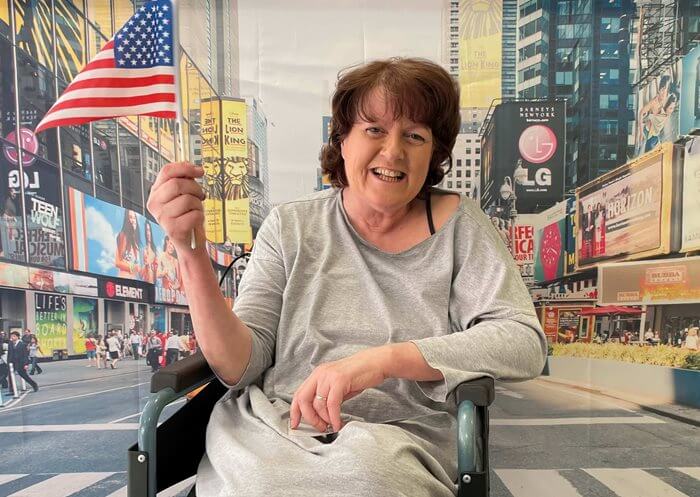 An avid traveller in her youth, Kay visited many countries including annual trips to Portugal and Monaco. Having spent two days in Miami, Kay was keen to tick another US city off her list and was intrigued by the vibrancy of New York and all the exciting activities the city offers.
To help fulfil Kay's wish, the team decked the home's lounge out in American banners, flags and backdrops. For the full authentic experience, the home's talented chefs cooked up a range of classic Big Apple food, including pancakes with bacon, hamburgers and hot dogs.
Kay was welcomed to 'New York' with a package of American sweets and her very own piece of land located in the State of New York, complete with a personalised deed.
Speaking of the experience, Kay said: "I've always wanted to go to New York and I feel incredibly humbled and appreciative that the team did this for me. I had a great time sharing the experience with my friends here at the home – the atmosphere was wonderful.
"I enjoyed clapping and dancing along to the swing music and trying all the American food – I came away on such a high!"
The visit was part of the home's Wishing Tree initiative, which encourages residents to put wishes forward, allowing them to reconnect with a past hobby or try something completely new – from flying on a plane to enjoying a fish and chip supper, no wish is too big or small.
Francesca Cowley, Home Manager at Highmarket House, said: "Kay is always talking about how much she'd like to visit New York, and I'm thrilled the team were able to bring the city that never sleeps to Highmarket House for everyone to enjoy.
"Our wishing tree initiative is a great way for residents to share their dreams and interests, and it's so rewarding to be able to make these a reality. Kay and her friends at the home had a wonderful time experiencing the 'Big Apple' and it provided a wonderful opportunity for everyone to share their own travelling tales.
"I'd like to extend a big thank you to the team here at Highmarket House for making Kay's wish come true – we're already planning our next city break!"
Highmarket House is a state-of-the-art care home which provides full-time residential, nursing, dementia and short-term respite care. The care home incorporates space for hobby and leisure activities and includes its own cinema, hair salon and café.
For more information on Highmarket House, please call Customer Relations Manager, Daniel Worley, on 01295 297596, or email daniel.worley@careuk.com
For more general information, please go to careuk.com/highmarket-house