A care home in Poole made shore to fulfil a resident's birthday wish to travel to the coast.
101-year-old, Dorothy Cattle, a resident at Care UK's The Potteries, on York Road, missed the sights and sounds of the sea – so the team organised a special trip to Bournemouth Beach.
The care home team has a 'Wishing Tree' initiative, which allows residents to suggest ideas for new hobbies they'd like to try, places they'd like to visit or even activities linked to past careers. This encourages residents to live fulfilling lives – from skiing to a fish and chip supper, no wish is too big or small.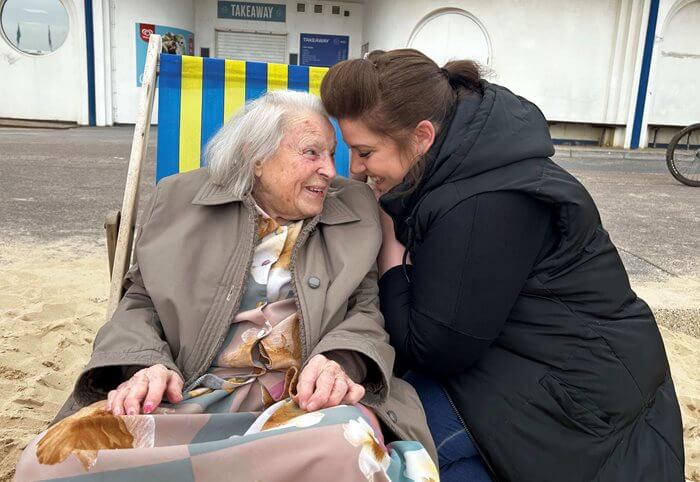 Dorothy, who used to visit Bournemouth Beach every day after her shift at a nearby bakery, enjoyed walking along the pier and even sinking her toes in the sand. To top things off, a team of local lifeguards came along to introduce themselves to Dorothy, and they all chatted about their favourite memories of living by the seaside.
Dorothy said: "This has brought back so many wonderful memories. I have missed the smells and the calmness of the beach. I enjoy going to the beach so much, because it makes me happy.
"The whole day was truly magical."
Zita Turner, Home Manager at The Potteries, added: "Our day trip to Bournemouth was one for the books, and there's no doubt we'll still be talking about it for weeks to come.
"Dorothy loves the seaside and has shared countless stories from her time working at a bakery near to Bournemouth Beach – so when she made a wish to re-visit the beach, we knew we had to make it happen.
"We're lucky to be so close to the beach at The Potteries and so it was incredibly rewarding to see how happy Dorothy was. We'll certainly be going back regularly to see our new friends the lifeguards!"
To find out more information about The Potteries, please contact Customer Relations Manager, Caroline Hearne, on 01202 069 835 or email caroline.hearne@careuk.com
For more general information, please visit: careuk.com/the-potteries