Age is just a number: 92-year-old Sway care home resident's dream comes true as she sees raunchy theatre show.
When the team at Care UK's Sway Place, on Church Lane, learned that 92-year-old Betty Richardson, had always wanted to see the Dreamboys show, they were keen to make her wish come true.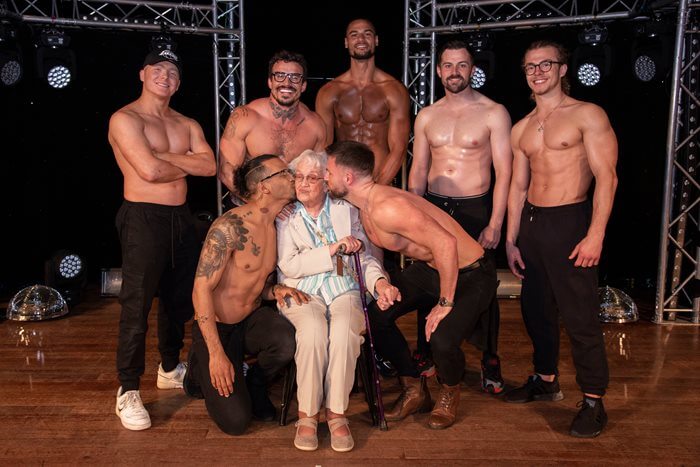 Betty has always had a zest for life and appreciates a male physique. Betty has also forever loved going to the theatre, especially enjoying it with her girlfriends, who joined her to watch the performance.
The team at Sway Place contacted the Dreamboys' team, who gave Betty free tickets to come to their next performance at the Bournemouth Pavilion Theatre, the closest theatre to her.
Dreamboys also gifted Betty a meet and greet with the performers before the show and a behind the scenes tour of the theatre.
Betty said: "Well I'm not going to forget that in a hurry. Was that a dream or was I really there!"
The visit was part of the home's Wishing Tree Initiative, which encourages residents to put wishes forward, allowing them to reconnect with a past hobby or try something completely new – from flying a plane to enjoying a fish and chip supper, no wish is too big or small.
Jane Baxter, Home Manager at Sway Place, said: "Betty has proved age is just a number by living her dream of seeing the Dreamboys.
"Our Wishing Tree initiative is a great way for residents to share their goals and it's hugely rewarding to be able to make these a reality. The visit was a complete success, and it was lovely seeing her face light up watching the performance.
"I would like to thank the team at Dreamboys for making her visit extra special and to the team at Sway Place for organising it for her – it was fantastic to see Betty still chasing her dreams!"
Alice Woods, Managing Director for Dreamboys added: "When we heard that 92-year-old Betty had made a wish to see Dreamboys via her care home, we knew immediately that we had to make this happen.
"We specialise in celebrations and Betty wanting to visit our show was definitely one. We are a totally inclusive show that can entertain and celebrate any guests whether they are 18 or 101 (Yes, we had a lady celebrate her 101st birthday with us).
"We ensured that Betty was given the full VIP experience at our Dreamboys show. Betty and her friends were treated to the best seats in the house and a private meet and greet with our fabulous team, we loved how this put a huge smile on Betty's face. We love helping make dreams a reality no matter the occasion."
Designed to enable residents to live active and fulfilled lives, while also promoting independence, Sway Place incorporates space for hobby and leisure activities. The home provides full-time residential care, dementia care and respite care. The layout of the building is configured into a series of individual suites, and 14 independent living cottages, each having a dedicated lounge/dining room to help facilitate the creation of close-knit communities.
To find out more about Sway Place, please call Laura Blake, Home Admissions Advisor, on 01590 607371, email laura.blake@careuk.com or visit careuk.com/sway-place